Worldwide Welcome Week Celebrates Power of Kellogg School Alumni Network
Worldwide Welcome Week 2005 officially began in Shanghai on Sept. 26 as Kellogg School Dean Dipak C. Jain addressed nearly two dozen Kellogg alumni gathered in a private dining room at the Westin Hotel. From there, this coordinated celebration of the Kellogg Alumni Network just kept going, crossing time zones and covering the globe as alumni joined one another to share professional experiences, recall their memories and enjoy the lifelong camaraderie that is a hallmark of the Kellogg School.
From Shanghai to New York, Santiago to Toronto and Melbourne to Moscow, Kellogg School alums met with their club leaders, senior Kellogg staff, and Kellogg Alumni Advisory Board members. Each event offered great opportunities for these graduates to connect with one another, benefiting — in big ways and small — from their colleagues.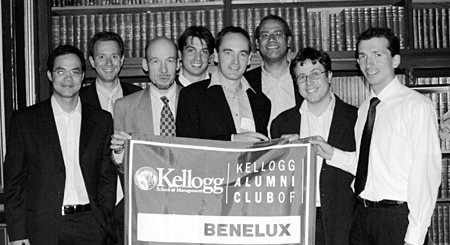 Kellogg Alumni Club of Benelux
In Washington, D.C., recent graduates networked with alumni peers about their new jobs, while in Seattle an alum who had just moved to the area was able to learn where to buy the best cup of coffee for his morning commute. In every city, alumni discovered the ways they could leverage the expanded and unique Kellogg Alumni Network.
In addition to opportunities to make new connections and renew old acquaintances, participants also entered a raffle to win a signed copy of Professor Mohan Sawhney's book, The Seven Steps to Nirvana, or a copy of the new Kellogg on Branding text, edited by professors Alice Tybout and Tim Calkins.
Worldwide Welcome Week began in 2004 as a one-day event called "Worldwide Wednesday," which the Kellogg School created as a vehicle for club leaders to welcome new graduates to their local alumni clubs. So to make a good thing better, this year Kellogg clubs organized 56 events that occurred over seven days. About 2,000 alumni from around the globe — including some 200 new alums — came together during this special week to celebrate their Kellogg connections.
Worldwide Welcome Week allowed Kellogg leadership the opportunity to meet with more alumni. For example: On Monday Assistant Dean Roxanne Hori from the Career Management Center met more than 30 alumni in Paris and on Wednesday she sat down for a meeting with several alumni in Geneva. While Dean Hori was in Switzerland, Senior Associate Dean Robert Korajczyk was in New York City giving a presentation to more than 75 alumni, including 23 members from the Class of 2005. He then boarded a plane to prepare for his meeting Thursday evening with about 80 alumni from the Kellogg Alumni Club of Washington, D.C.
While Dean Korajczyk was able to stay dry on land, newly appointed Senior Associate Dean Kathleen Hagerty was at the helm of a boat on the Chicago River, delivering key messages from Kellogg to more than 70 alumni on a river cruise.
Congratulations to the Class of 2005 and special thanks to all our graduates who contribute to the power of the Kellogg School Alumni Network.