Kellogg – Creating leaders who care (cont'd)
Think globally, act locally
While rigorous academic programs such as BASE and the Public/Nonprofit Program often take a "big picture" look at the business world, Kellogg is also a culture that makes a difference closer to home too.
Kellogg students learn how to run a nonprofit organization or lead a global firm through the challenges of nonmarket and market forces. But as they study, most Kellogg scholars throw themselves into an assortment of volunteer efforts through the school's vibrant student clubs.
The Social Impact Club, for instance, brings nonprofit leaders to campus with its Fall Speakers Series, as well as its annual Innovating Social Change Conference. The club also sees itself as engaged in an outreach mission to educate Kellogg students about the ways their leadership can play a role in public and nonprofit arenas.
"Kellogg is a leadership school, and the MBA is a leadership degree," says Stacy McAuliffe '04, the club's marketing and communication officer. "The Social Impact Club is in a position to understand the for-profit and nonprofit worlds, creating a dialogue between students in both."
Club President Jessica Watson '04 notes that Kellogg students are "attuned to the nonprofit sector, even if they've never worked there." She views the club's mission as "tapping the civic nature of our peers, who are already open to exploring the world of nonprofit, even if they may not fully go into a nonprofit career."
Both students believe it important for MBAs to realize the many ways that business and the public interest interact, beyond the basic categories of for- and nonprofit — investing in small businesses working in low-income areas, for instance.
"An important component of being a leader is impacting the world around you, not just concerning yourself with your own wealth," says Watson.
Other clubs, such as Business with a Heart, provide an umbrella under which Kellogg students perform a number of service missions. BWAH engages in tutorial and youth programs such as those involving the YMCA and Junior Achievement; outreach programs such as Christmas in April, Connections for the Homeless, Special Olympics, Habitat for Humanity and the Neighborhood Business Initiative; and special events such as food, clothing and blood drives, and annual Kellogg charity events that include Toy Drive and the Charity Auction Ball (the latter has raised as much as $70,000).
With Kellogg initiatives such as the Learning Through Experience and Action Program (LEAP) and Kellogg Corps (the program that sent Levenberg and McDaniel to Africa), students and recent graduates put their leadership skills to work in a variety of settings, including within nonprofit and nongovernmental contexts.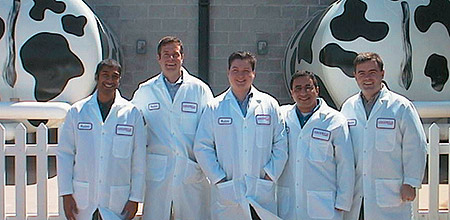 From left to right: Sri Kaza, Mark Klossner, Ignacio Felix, Farrokh Batliwala and Daniel Garcia (all '04), at the Oberweis Dairy plant in North Aurora, Ill. As part of the Kellogg LEAP course, the students partnered with Oberweis to develop a model that would accurately forecast short-term demand and help the firm manage its weekly production.
LEAP is a "capstone" course for many first-year Kellogg MBAs, says Fran Brasfield Langewisch '95, assistant dean and director of student life and experiences. The program pairs students with a variety of organizations — recent partners include Northwestern Memorial Hospital, The Block Cinema, Home Depot, BMW and Room to Read, a literacy advocacy nonprofit founded by Kellogg alum John Wood '89.
Langewisch says that LEAP's goal is to create value for both students — who get to practice their portfolio of leadership skills in a real-world setting — and the partner firms, who benefit from having Kellogg School insights strengthen their organizations.
"Kellogg really stresses leadership opportunities that give back to the school and the community," says Langewisch, noting that Kellogg's 14 annual student conferences and its 80 clubs offer a far richer experience than that of other peer institutions. "We see the bigger picture here, and teach students the importance of ethics and leadership both within the workplace and in the larger community. This is something Kellogg has always emphasized, and it's our culture and values that make us unique."
Langewisch's longtime predecessor in the Office of Student Affairs, Edmund Wilson, is even more unequivocal: "Kellogg is not a place for fence-straddlers or spectators," says Wilson, former associate dean for student affairs and now ambassador at large for the school.
Numerous Kellogg School alumni prove Wilson's contention each day in the work they do for their communities. Sharon Durling '87 is one of them.
Durling lends her expertise to inner city residents, especially women, looking to learn how to manage their money better. She presents free financial seminars and has written a book — A Girl and Her Money — that combine her passion for philanthropy and finance. Her efforts are part of a larger outreach by Chicago-based Goodcity, which helps economically disenfranchised people enter the economic mainstream.
| | |
| --- | --- |
| | |
| © Mary Hanlon | |
| Sharon Durling '87 brings her financial lleadership to the community by volunteering with Goodcity. | |
| | |
Durling says that her audiences — and not all of them are poor; many are wealthy but have poor money-management skills — are often amazed to "discover the wide, wonderful world of savings and compound interest." The revelations she helps bring about can have profound and lasting impact on her clients' lives.

"I tell my audiences, 'If you passed fourth-grade math, you have all the technical skills to do basic investing,'" she says. "You should see the looks on their faces when they learn this stuff is within their grasp."

Having grown up poor but in a family that always tried to help those even less fortunate, Durling says that service to others can broaden one's perspective on life. Even those reluctant to give back to the community for the community's sake, she insists, should consider doing so out of self-interest. "The benefits are immeasurable when you give," she explains. "Giving does something to you — spiritually, mentally and emotionally — that allows you to skip to the office the next day with a different framework that really impacts your business leadership in powerful ways."

For some Kellogg School alumni, though, skipping is discouraged in their place of employment, at least during formal office hours.

Sarah Butter '98 leveraged her Kellogg School MBA and her Princeton Theological Seminary degree to become pastor of the First Presbyterian Church of Wilmette. She explains her thoughts about service for the common good by citing theologian Frederick Buechner's belief that "the place where your deep joy and the world's deep hunger intersect, that's where you are called."

"For some of us, that intersection happens in our professional work; for others, that place is discovered in service or volunteer work," Rev. Butter says. "In either case, all of us have the opportunity to touch and transform lives, and in so doing have our own lives touched and transformed."

Page 1, 2, 3