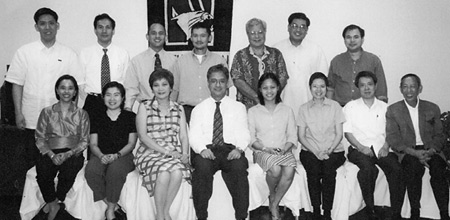 Cesar Saldana (center front) with members of the Kellogg Philippines alumni club who, in August gathered to hear Saldana speak about good corporate governance practices.
Philippines
Cesar Saldana spoke on good corporate governance at the August monthly meeting of the Northwestern Alumni Association of the Philippines, touching on everything from Enron to his new organization, which is training future independent corporate directors on how to be a good director (i.e. avoid liability in case the company you're a director of goes under). Cesar also pledged to become a lifetime member of NUAAP, just so he can avail himself of the free Thanksgiving dinner for all lifetime members this coming November.
Members of the Philippines Club also met to hear new PNB President Lorenzo Tan '87 speak. he was the guest of honor at a testimonial dinner hosted by his fellow alums.