Bringing the Kellogg spirit to the world
Dean Dipak Jain hits the road to visit alumni and prove the Kellogg experience doesn't end with graduation
By Matt Golosinski
Since assuming the Kellogg deanship on July 1, Dipak C. Jain has taken the Kellogg culture on the road, traveling frequently to fulfill his pledge to network more intensely with the school's alumni. In the past few months Jain has traveled to Hong Kong, the Philippines, San Francisco, Seattle, Minneapolis, Bangkok and Dallas. He intends to continue racking up his frequent flier miles through at least January, carefully balancing his schedule to remain available for faculty, staff and students in Evanston.

At each stop the dean has met with alumni clubs, recruiters and corporate friends in an effort to build more value into the Kellogg experience for the school's graduates and partners in the business community. He has also used these trips as an opportunity to formally introduce himself as Kellogg's new chief executive.

| | |
| --- | --- |
| | |
| © Anne Knudsen | |
| Dean Jain with alumni at a Minneapolis / St. Paul reception. | |
| | |
Packed into the dean's suitcase for these visits are details of his plan to enhance what he calls Kellogg's "Culture of Innovation and Excellence," a model that describes the school's mission in terms of scholarship, leadership and partnership. Dean Jain has been sharing this blueprint for excellence with enthusiastic alumni throughout his travels.

While Kellogg has always sought to keep communication open between the school and its graduates, the dean is especially interested in hearing what alumni have to say. In fact, this partnership is so important that Jain has incorporated it into the school's strategic plan to make the Kellogg experience unparalleled - and to extend that experience past graduation.

"I am eager to engage in a dialogue with our alumni to determine how Kellogg can continue to deliver meaningful programs and services that enhance the careers, and the lives, of our graduates," said Jain. "We always emphasize that Kellogg is a lifelong learning experience. I want to be sure to communicate the school's renewed commitment to this ideal, and benefit from the recommendations of our alumni."

Kurt Scherer '92 was among those in the Bay Area excited by the dean's visit. "Dean Jain delivered some great news for alumni. I was very encouraged by his decision to invest more resources in the alumni network," said Scherer, president of the Bay Area Kellogg Alumni Club. "The dean has given us the opportunity to engage in frank discussions with him about ways to build even greater value into the Kellogg School experience." Scherer was pleased that some 160 Bay Area alumni turned out to hear Jain speak.

| | |
| --- | --- |
| | |
| | Fred McCoy '81, president of the Cardiac Rhythm Management Group at Guidant Corp., and chairman of the Kellogg Alumni Advisory Board, invited Dean Jain to address Guidant employees about marketing trends during a recent recruiting and networking visit to Minneapolis/St. Paul. |
| | |
At many stops, the dean has met with Alumni Advisory Board members, donors and alumni club members. During his trip to Minnesota, Jain even took the opportunity to speak to about 400 Guidant employees about marketing. The discussion was broadcast to several of the company's regional offices. As part of his visit to Dallas, Jain was honored by his alma mater, the University of Texas, with the school's Distinguished Alumni award.

While on the road, the dean also participated in recruiter roundtable sessions with General Mills, Levi Strauss and Intel to learn about the corporate strategy of these companies for the next year, and to gain an understanding of their expectation for the Kellogg School.

"It is important for Kellogg and for recruiters to exchange this information," said Jain. "Doing so enables our school to better serve the needs of our students, as well as the needs of our corporate friends."

Said Assistant Dean and Director of the Career Management Center Roxanne Hori, "Employers and alums have been very pleased to meet Dean Jain. In his meetings with recruiting contacts and at the alumni events, people were energized by the dean's energy and commitment to the school." Hori noted that Kellogg has a powerful resource in its alumni base and applauded Jain's initiatives to develop that resource fully. "Dean Jain has created a great deal of momentum through these visits," added Hori.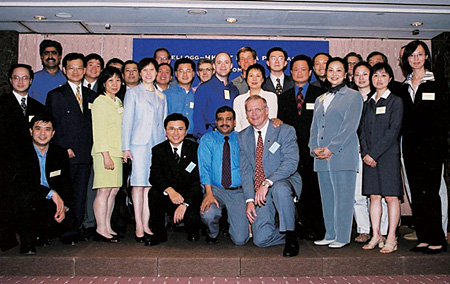 Hong Kong EMBA students welcome Dean Jain.