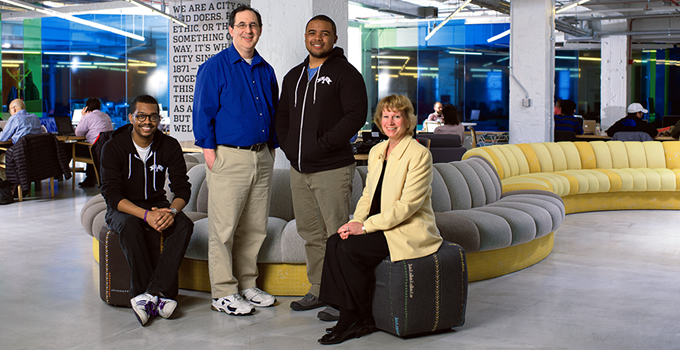 Wired entrepreneurs
New Kellogg course teaches students how to manage technical teams
By Marissa Monson | Photo by Jeff Sciortino
When it came time for would-be entrepreneurs to hire on-campus web developers for building a minimum viable product, Linda Darragh noticed a problem: The developers' calendars were often booked solid.
From left: Starter League's Co-Founder Mike McGee, Chief Instructor Jeff Cohen and Co-Founder Neal Sales-Griffin with Linda Darragh, executive director of the Kellogg Innovation and Entrepreneurship Initiative at the Starter League headquarters in 1871 — a Chicago-based, shared space for digital startups.
"They are in such high demand these days," says Darragh, executive director of the Kellogg Innovation and Entrepreneurship Initiative (KIEI). Attuned to the students' need, she "realized there were some real issues around programming."
The technology barrier was inconvenient, but it also broached a larger topic: Technology influences industry. No matter what position of management MBA students pursue, without technology literacy, they will have a difficult time managing a technical team.
Darragh detected a clear opportunity.
"I think this whole idea of becoming tech-enabled and understanding the technology becomes really critical," she says.
Darragh queried her contacts in Chicago's burgeoning tech start-up scene. The result was a new type of collaboration: a course offered by Starter League, a beginner-focused software school that teaches how to code, design and launch web applications.
The course, coupled with a KIEI-hosted workshop on building templated websites, has put Kellogg on a pioneering path of entrepreneurship education by enhancing the technology skill level of its students.
"When [students] know they can help build, it actually spurs more innovation," says Jeff Cohen, chief instructor at The Starter League.
"
…the demand for technical education by business schools is now really important.
Jeff Cohen
Chief Instructor, Starter League
Cohen, who teaches the new Kellogg course, says he isn't expecting students to go from zero to programmer during the 12-week course. What the class will do is give entrepreneurs an "initial immersion into computer programming that is beginner-focused and isn't intimidating."
Most students won't become web developers, but they will probably manage developers. If the Starter League can help improve the working relationship between developer and entrepreneur, that business will have a better chance of succeeding, Cohen says.
The class will incorporate project management tools, including AgileZen, and the programming language Ruby on Rails. Cohen also gives students an insider perspective on what a web developer's job is like and what the challenges will be when they try to grow their teams.
Founded by Northwestern graduates Neal Sales-Griffin and Mike McGee, the Starter League was a natural fit for Kellogg. As a startup effort, and a tech start-up at that, Cohen says, enabling people to start their own company is the business Starter League wants to be in.
And, according to the numbers, so do Kellogg students. Of the 90 courses offered during the spring quarter, the Starter League class was ranked 16th in the number of bids received — high demand for a first-time offering.
"What's been clear is that the demand for technical education by business schools is now really important," Cohen says. "Anyone who thinks they will be involved in a startup without coding literacy simply won't survive."
Kellogg innovation and entrepreneurship Initiative: All businesses face the challenge of needing to continually find new ways to create value. This initiative helps business leaders — from startups to large corporations — discover new ideas and turn them into valuable goods and services.