Kellogg Club of Chicago
Kerri Lin '11
kerrilin3@hotmail.com
The Kellogg Alumni Club of Chicago (KACC) was awarded the Kellogg Alumni Club of Excellence Award for the second consecutive year! This award is presented to an alumni club that has done extraordinary work in nurturing a community, strengthening a network and reinforcing Kellogg's commitment to lifelong learning. KACC revamped its club structure to a model of operational excellence, created innovative professional networking opportunities and planned rich, content-based events to align with Kellogg's initiatives.
The newly elected KACC board of directors consists of both new and returning chairs who are excited to continue developing insightful and valuable events to the Kellogg Chicago alumni community. KACC's new board of directors include: President, Kerri Lin '11; President Elect, Sebastian Hoffmann '13; Treasurer, Colleen Lowmiller Marwil '99; Secretary, Mike Deuerling '14; Communication, Rob Hendricks '11; Community Relations, Brooke Shankland '15; Engagement, Diana Lebiecki '16; Entrepreneurship, Rajal Patel '14; Partnership, Eva Jelezova '12; Professional Development, Jeff Hyland '88; Social, Edgar Delgado '15.
A few examples of KACC's recent events include:
The Role of Complexity & Simplicity in Creating Innovative Business Models (September 2016) — Professor Sunil Chopra presented his research on the complexity and simplicity in the creation of new strategic business models and channels of distribution. A remarkable panel of alumni experts from Constellation Brands, Ornua Foods and Grainger brought their insights and experience on how they have tackled complexity issues and created new targeted solutions for a competitive edge in the marketplace.
KACC Alumni Boat Cruise (October 2016) — Each year KACC invites new Kellogg graduates to meet and network with Chicago's vibrant alumni base. This year, the KACC community welcomed the new Chicago graduates with a night of cocktails, dining and networking on board the Summer of George, a 100-foot multilevel cruise ship. Everyone enjoyed the fresh autumn air while cruising past Chicago's iconic landmarks. Kellogg Cares Day (October 2016) — Kellogg Cares Day is a Kellogg tradition that gathers students, families, faculty, staff and alumni to serve nonprofits in the Evanston, Chicago and surrounding areas. This year, KACC alumni and their families were excited to join the largest ever Kellogg Cares Day (1000+ participants) to volunteer with Big Shoulders Fund at St. Francis de Sales High School on the southeast side of Chicago.
Trunk Club Event with Stanford Graduate School of Business Alumni Club — KACC joined the Stanford GSB Alumni Chapter of Chicago to hear from Trunk Club's then-CEO, Brian Spaly GSB '07, and then-COO, Rob Chesney '98. The club learned about the specific strategic and tactical steps they took to grow Trunk Club from an idea to scale (building the brand, growth strategy, operating leverage, etc.), position it to be acquired, and continue to grow as part of a new parent organization.
KACC and Northwestern Pritzker School of Law Ping-Pong Tournament (December 2016) — A team of Kellogg alumni beat out more than ten other teams to win the first annual Kellogg vs. Northwestern Pritzker School of Law Alumni Ping-Pong Tournament. KACC looks forward to defending its championship title next year!
KACC is continuously looking to develop and deliver valuable events to the Chicago Kellogg alumni community. Those interested in learning more, please join the monthly KACC board meetings (second Mondays of every month at Wieboldt Hall).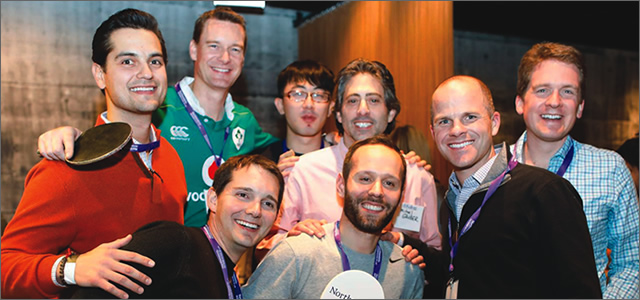 The Kellogg Alumni Club of Chicago
wins the first annual
Kellogg vs. Northwestern Pritzker School of Law Alumni Ping-Pong Tournament