Kellogg Club of Boston
Elizabeth Bernardi '14
KACBoston@kellogg.northwestern.edu
In September 2016, the Kellogg Alumni Club of Boston kicked off its programming year by welcoming Massachusetts Governor Charlie Baker '86 and First Lady Lauren Baker '86, who met at Kellogg and remain in touch with many of their classmates. The Bakers joined the club for breakfast and a conversation moderated by Professor Craig Garthwaite. Governor Baker, who took office in 2015, and Mrs. Baker candidly discussed their experience as the Commonwealth's "first couple."
The Governor highlighted the role his management background — and Kellogg education — has played in preparing him to be the chief executive of the Commonwealth. Mrs. Baker discussed her passion for reviving the Department of Children and Families (DCF) Kids Fund, a nonprofit that provides basic necessities and enrichment opportunities to the 50,000 children served by DCF in Massachusetts. More than 100 alumni attended the event.
Additional alumni events this fall included a workshop on how to best leverage LinkedIn profiles with Matthew Temple '93, director of alumni career development at Kellogg, and a service event at the Charles River Conservancy in concert with Kellogg Cares Day. The Kellogg Alumni Club of Boston and its hard-working volunteer board of directors looks forward to engaging a broader base of alumni in 2017! Anyone interested in getting more involved or who has suggestions for future events should contact the club's president, Elizabeth Bernardi '14.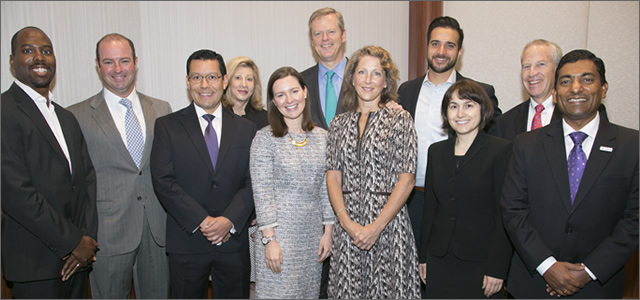 Massachusetts Governor Charlie Baker '86 and First Lady Lauren Baker '86
with members of the Boston Kellogg community
.
Desmond Pope '11, Stu Abelson '05, Lou Madge '07, Laura Hollister '00, Elizabeth Bernardi '14, Governor Charlie Baker '86, First Lady Lauren Baker '86, Matt Klein '15, Lisa Fanjoy '09, Jerry Cohen '79, Mal Joshi '10