2009
Andrew Choquette and his wife Mary welcomed their first daughter, and third child, Mary Margaret 'Maisie' Choquette on September 21, 2016.
Perry and Mary Hvistendahl and big brother Owen welcomed Nora Frances on March 30, 2016, in Castro Valley, California.
Over the summer Nicole Tilzer took on the role of head of marketing for a children's clothing e-commerce startup called Primary (primary.com) — great for families with kids 0-12. She also had the opportunity to travel to both Panama and France this year, and completed her 14th marathon, running her 4th NYC Marathon in November 2016!
Vivek Wadhera recently became COO of Choppies group of supermarkets based in South Africa. Choppies is Africa's fastest-growing FMCG retailer outside of South Africa, with annual revenues of $US600 million+ and over 180 stores. Listed on the Johannesburg stock exchange, they have a workforce of approximately 14,000 across South Africa, Botswana, Zimbabwe, Zambia and Kenya. At 34, Wadhera is the youngest COO appointment in the company's history. Prior to this he was the group chief of strategic operations, with responsibility for marketing, tech, HR and strategy.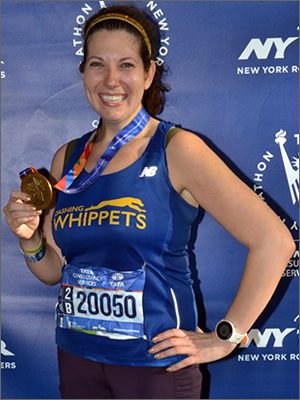 Nicole Tilzer '09 after the 2016 NYC Marathon