1997
Leadership Florida has selected Tamiami Angel Funds chairman Timothy J. Cartwright to be a member of its 35th class. Cartwright will join 55 other leaders in business, politics and philanthropy this year for an eight-month training and development program that many regard as one of the most significant educational and career experiences. Currently, Cartwright is the chairman of the Tamiami Angel Funds and a partner at Fifth Avenue Advisors, a Naples, Florida-based family wealth office.
Matthew Lowell has been living and working in Palo Alto, California the last several years with his wife Rebecca and three kids. After leading the separation of Varex Imaging from Varian Medical Systems, a publicly traded medical device company, he has decided to join the spinoff company as treasurer and head of M&A. Though Matt will be commuting between the Bay Area and Salt Lake City, where the new company is located, he is very excited about the new opportunity (and great skiing!).
Alexandra Magin and family are still enjoying San Diego. Her boys are now 18 and 16, and yes, they still have a Bernese Mountain Dog! Alex has moved from the electronics industry (Motorola for eight years and SONY for 10 years) to the healthcare sector and is very much enjoying working with DJO Global. Please say hello if you are in San Diego or São Paulo. She loved attending the Kellogg on Growth Forum this year, and she hopes to see everyone at Reunion!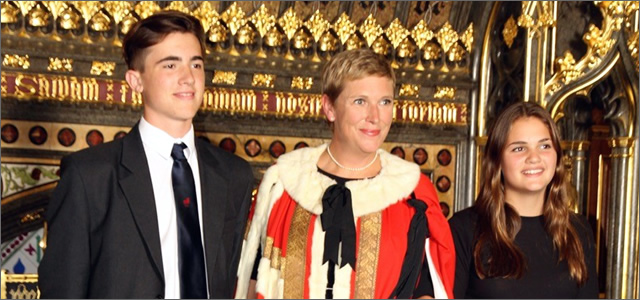 The Baroness Vere of Norbiton '97 and her children, Hector and Alicia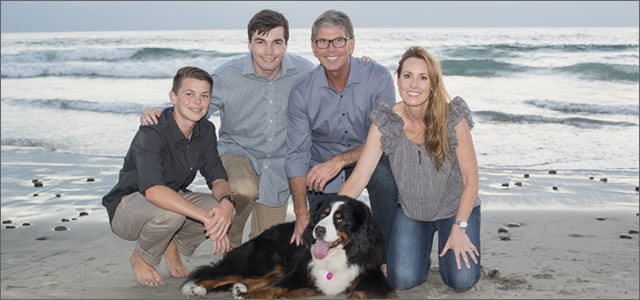 Alexa Magin '97 and family