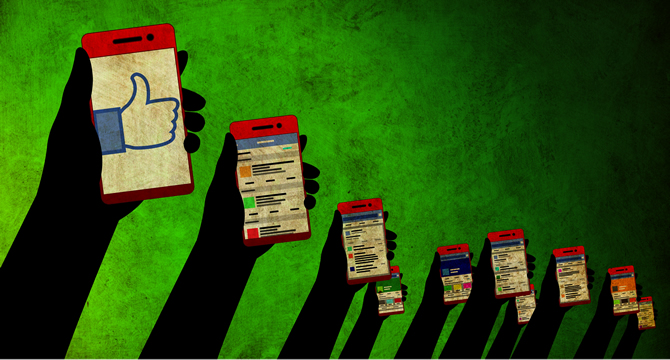 #privatepolitics

Advocacy sites turn to social media to force change
By Chuck McCutcheon | Illustration by Aaron Wood

To understand the power of social media, Kellogg's Brayden King suggests an unlikely source: a group of Kenyan women who started a Facebook page to chat about motherhood. The "Kilimani Mums" ended up organizing a protest of violence against women that drew worldwide attention and spurred the government to launch its own awareness campaign.
"Their page became a way to talk about how to improve women's lives in a country where there's been a lot of government-sanctioned abuse of women," said King, an associate professor of Management and Organizations. "It's a great example of how a group that, in the past, had no access to public participation — suddenly has it."
"The fact that you're so close to your customers on social media means you're much more at risk of having your reputation tarnished when your image goes wrong."
Brayden King
Associate Professor of Management
and Organizations
King studies "private politics," the phenomenon of advocacy groups replacing governments as societal regulators. Increasingly, he says, those activists are using Facebook, Twitter, Pinterest and other social media platforms to build consensus and generate vast amounts of publicity — and that as a result, organizational leaders need to pay more attention to them.
Social media "can create public attention for your cause and bypass the traditional dependence on media," King said. "Also it's open and easy to access, so anybody who has  access to the Internet can get on and see what's going on. Mailing an envelope in — that's a lot more effort than posting something on Facebook."
As the Kilimani Mums illustrate, mothers are one demographic that organizations should keep uppermost in mind, King said. Studies show they're among the most active users of Facebook, and they can be adept at agreeing on and working toward a common goal on behalf of their children.
Many companies and governments already have a robust social media presence, but King said they still make mistakes. During last year's NBA Finals, a basketball fan asked the sports-drink maker Gatorade on Twitter why it couldn't prevent superstar LeBron James' leg cramps. The company hastily replied, "The person cramping wasn't our client. Our athletes can take the heat." The tweet met with an avalanche of criticism, with many saying the company was unfairly picking on James.
"The fact that you're so close to your customers on social media means you're much more at risk of having your reputation tarnished when your image goes wrong, so companies have to be pretty proactive," he said. "We advocate that this should not just be something you hand to the 20-something intern, but make a serious part of your strategy."
However, he added, even the most buttoned-up organizations can use humor to promote their authenticity. King praised the Central Intelligence Agency for saying in its initial Twitter post last year: "We can neither confirm nor deny that this is our first tweet."