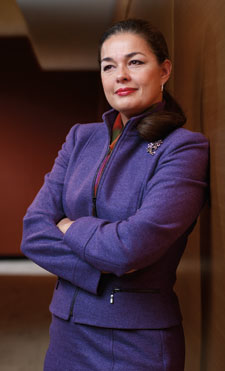 Ana Dutra '94 epitomizes the notion of "having a global perspective."
By Sarah Langen
Not only is the Brazilian native fluent in five languages, but she has lived in several nations and worked in even more — enabling her to approach challenges from multiple points of view. That perspective has proven invaluable to Dutra in her current role at Korn/Ferry International, a leading global provider of talent management solutions previously known exclusively for its executive recruiting.
As CEO of Korn/Ferry Leadership and Talent Consulting, Dutra oversees the firm's $120 million consulting business, manages 300-plus consultants around the world, and represents the company before global entities such as the World Economic Forum and the Saudia Arabia Global Competitiveness Forum. Korn/Ferry today is "set up for very aggressive growth," says Dutra, who is also an executive vice president at the firm. She notes that Korn/Ferry's consulting business has experienced three acquisitions since she joined the company in 2008 and is now gearing up for a fourth.
Dutra began her career as a Brazil-based attorney, practicing commercial law and teaching microeconomics and international finance, but she quickly discovered that she enjoyed the business side of her work the most. When IBM Consulting Group came recruiting to Brazil, Dutra leapt at the opportunity to learn more about the business world.
As an executive with IBM, "I discovered that what I loved was advising clients and working with them to develop and execute their strategies," she remembers.
Dutra recognized that in order to be successful at management consulting, she needed to earn an MBA — so she enrolled in the Kellogg School's Full-Time MBA Program. Those two years at Kellogg were among the most interesting and valuable in her career, she says. Post-graduation, Dutra held positions at Booz Allen, CSC Index, Marakon Associates, Mercer and Accenture, where she led the global organization strategy practice.
That diversity of experience has equipped Dutra to tackle the challenges of consulting in the current economic climate. Today, companies are looking to consultants for guidance more than ever, Dutra says.
To meet those demands, Korn/Ferry "takes a client from understanding their strategy to helping them identify the high-potential employees who are going to execute that plan," she says. "As consultants, we bring science and methodology as well as an objective and pragmatic position to the table."
Helping her clients achieve unprecedented results is what keeps Dutra coming back.
"I love what I do," she says. "[Taking] a business, turning it around and really influencing an organization's strategy is what drives me — and will continue to drive me — in the future."