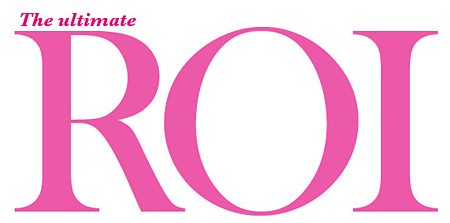 Armed with passion, leadership training and no-nonsense business models, these Kellogg School graduates are using their MBA skills to fight poverty, sowing hope in the lives of millions

Dream small to dream big. That's the paradox at the heart of business strategy employed by Opportunity International, a microcredit lender using sober-minded economics to heal a world wracked by poverty and its attendant evils.

But how, given some estimates that 40 percent of the world exists on less than $750 a year, does one grapple with the enormity of perhaps 3 billion impoverished people threatened by hunger, illness and war?

Top-flight management skills, along with compassion, are standing in admirably well for Kellogg School alumni like Beth Houle '95, senior vice president of marketing strategy at Opportunity International and director of the pathbreaking organization's Women's Opportunity Fund, a financial incubator. Proponents of microfinance, an industry with informal roots dating back ages but whose modern incarnation is not yet 40 years old, contend that their approach to capitalism — making small loans to entrepreneurs who lack collateral — offers the best hope to rescue those who otherwise can expect little else but a continued descent into squalor.

"Our clients have been in that cycle of poverty: no access to capital, slaves to money lenders and exorbitant rates," says Houle, noting that Opportunity International was the first organization of its kind, an ecumenical Christian venture founded in 1971 by Al Whittaker, former president of Bristol Meyers.

Today, she and her peers, including chief financial officer Richard John (TMP 1982), are proving that it really does take a village, and about $84, the price of an average first-time "Trust Bank" loan from Opportunity, to make a permanent mark in the global battle against poverty.

The Trust Bank model builds community leaders and leverages communal bonds by bringing together 15 to 40 local entrepreneurs — overwhelmingly women — who are then connected by their commercial enterprises, often small businesses that sell produce or other goods. In this way, and simply by providing a safe place for savings that otherwise could be stolen or would have to be converted into livestock with a dubious future, Opportunity extends First World business practices to redress Third World calamity. Today, the organization serves some 800,000 people in 27 countries.

Opportunity, and peers such as the Grameen Foundation and ACCION International, rely upon the best management skills to align mission with a viable strategy. Those who handle the business deftly are attracting more resources, since donors, like investors, want to put their money to work where the return proves greatest.

Under these circumstances, Houle and other Kellogg School alums, such as SERRV International's Sabrina Karl and Jean Johnson, and Médecins Sans Frontières' Jane Coyne, know the power their MBA training brings in today's hypercompetitive market.

Because of this competition, differences between for-profit and nonprofit management keep dwindling. Indeed, Oak Brook, Ill.-based Opportunity International may have the soul of a nonprofit, but the nature of its work demands that portions of it formally operate as a for-profit bank, otherwise it could not legally hold its clients' savings or access capital from commercial banks, says Houle. "Most everyone in our organization came from some private sector background," she says, including CFO John, a Kellogg graduate with senior finance experience at Amoco.

Houle wants Opportunity to be more than a top microfinance institution. "I want it to be recognized as one of the top organizations for poverty alleviation, period," she says. "I want to help humanity, but the competitive part of me is focused on building our business at the same time."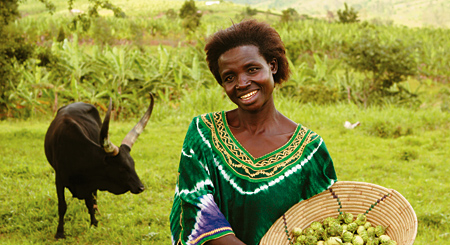 Opportunity International's loan clients include Beatrice Kitaara of Mbarrara, Uganda, who with her husband now has a small vegetable farm and one dairy cow, yielding enough income to support their nine children.
The challenge of growing smart
According to a 1999 Brookings Institution study, poverty eradication works best when economic solutions are leveraged in conjunction with a social fabric that offers education, healthcare and housing. Microfinance advocates say their efforts bring help in a tangible, immediate way that can prove sustainable, and their ranks keep growing.
Accurate numbers are hard to come by, but Indonesia by itself may host some 600,000 such lenders. The United Nations Capital Development Fund estimates that microfinance customers have increased 25 to 30 percent annually over the past five years. These impressive gains still leave out a lot of people: Only 30 million of some 500 million households are being served. Among the reasons for these numbers, according to a Nov. 5, 2005, survey by The Economist, are barriers such as steep and unpredictable inflation in most developing countries, along with incompetent government and absent legal frameworks to support financial services.
Stereotypes about the poor's creditworthiness also bear part of the blame. The reality, says Houle, is that many of her clients are fine credit risks, particularly given her organization's use of community ties to reinforce obligation. As evidence, she cites a 98 percent repayment rate on Opportunity loans.
| | |
| --- | --- |
| | |
| | SERRV International's Sabrina Karl '02, left, and Jean Johnson '99 |
| | |
"Microfinance is built on the truth that lacking capital is a business challenge; it's not a character issue," she says. "Every businessperson understands that, and it helps them understand entrepreneurs who are poor."
Yet scaling up presents serious challenges: Grow too big or attempt too much too soon and mission drift can swamp the best intentions, resulting in critical errors.
Houle's organization remains focused, but it cannot afford to stand still. She says that Opportunity continues its tradition of innovation by enhancing products and services — including drought insurance in Malawi, piloted last year with The World Bank. She believes Opportunity's "tipping point" is coming and that the organization, by leveraging its resources carefully, can expand its efforts.
One reason for Houle's optimism is the high loan repayment rate and low arrears rate that allow money to continue working, fueling other enterprises.
"In addition to putting donations to good use, our local microfinance banks can access same-currency loans from local commercial banks — critical to stem currency risk — to then lend to even more poor entrepreneurs," says Houle, who remembers being introduced to the world of finance and philanthropy as a child raising money for the Ronald McDonald House. "Our microfinance banks, such as in Ghana, are among the first recognized by their central bank."
As an industry, "it's a brave new world ... the whole purpose of which is to serve more poor people," she says.
Growth challenges also face Karl and Johnson at SERRV International, a Madison, Wis.-based nonprofit alternative trade and development organization whose mission is to promote social and economic justice and encourage sustainable environmental practices, via a range of fairly traded goods. The group's catalog arm, A Greater Gift, sells handcrafted products ranging from jewelry, food and children's toys, to musical instruments and kitchenware.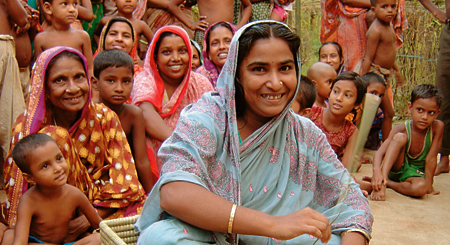 Opposite: Artists in rural Bangladesh cut Kaisa grass from riverbanks to weave baskets for fair market trade through SERRV International.
Founded in 1949 and operating as a retailer and wholesaler, SERRV works with a worldwide network of artisans and farmers in some of the poorest regions in Africa, Asia and Latin America, contracting them to produce items such as drums, tapestries and tablecloths and small-batch, shade-grown coffee — all traded at prices that let producers earn a living wage.
A 2002 graduate of the Kellogg part time program, Karl is director of fund development for SERRV, "a dream job" that finds her overseeing all of the organization's charitable giving and socially responsible investment programs. About the organization's SERRV International Loan Fund, she says, "You put the money into SERRV just like you would a CD at the bank, and we pay you interest while your principal funds our mission."
Her Kellogg peer Johnson is SERRV's director of product development and merchandising whose role entails cultivating relationships aligned with the organization's mission.
"There are lots of people with a product who don't have access to the market," says Johnson '99. "We tend to work with organizations that are training institutes or otherwise involved with the community. Some of the groups support orphanages, provide programs for young mothers or offer healthcare. This way, the dollars that go toward a product purchase impact both the artisans and their communities."
Today, the organization is making special efforts in Africa, says Johnson, whose entree into economic development came after college and serving in Ecuador teaching English. "There was such inequality of wealth Š I wanted to find a career helping people in developing countries achieve some sort of economic parity," she says.
Both Kellogg grads are pleased with SERRV's recent growth — an unexpected 17 percent jump in revenues last year — but Karl describes this as a "wonderful challenge" that requires their organization to grow quickly into its new size while effectively handling the new operational stresses.
When unanticipated demand results in a stock-out, SERRV relies on customer engagement to retain the business. Sometimes the situation even offers an opportunity to educate the consumer about SERRV's global supply chain — the logistics of which Karl says are complex since nearly all the organization's merchandise comes from overseas producers.
Consequently, SERRV finds itself managing a host of cross-cultural challenges as it negotiates with nearly 90 producer groups in 35 countries. Occasionally these challenges take improbable turns, as when an artisan embellishes a standard design in an effort to add value to the product. While well-meaning, the gesture can create headaches for SERRV, whose customers expect an item as described in the organization's catalog or on its Web site.
"The artisans see it as a gift to us — some extra carving on the base of a drum, for instance," says Karl. "But we see this as [a variation on] what our customers are expecting. In America, it's actually better for the drum not to have all those birds carved in the bottom. Challenges like that are not uncommon for our product team."
SERRV works closely with artisans to ensure product consistency and to educate artisans about the American market. But it's not only the producers who benefit from education, say the Kellogg alums: They also try to inform Americans about the value of fair trade — a term they define broadly to include not only a living wage, but trade that is fair to children, to the environment and to the artisans and farmers.
| | |
| --- | --- |
| | |
| Hand-woven baskets and totes are among the goods offered by SERRV International's African artisans. | |
| | |
Getting through to more people is difficult, they admit, and one only needs to look closer at the numbers to understand the challenge. Despite that recent growth, SERRV's sales were about $8.5 million last year. Its peer in the fair trade movement, Ten Thousand Villages, generated about $18 million in sales. By comparison, annual sales from an individual Wal-Mart store total about $65 million, says Karl, who has worked in the nonprofit field since earning her undergraduate degree from Michigan State in 1992.
Despite this disparity, Johnson emphasizes the competitive nature of their business.
"You have to be competitive in general, but we have this whole other layer of commitment and responsibility to our artisans, our partners, which adds additional complexity to a business that is already fairly complex for its size," she says.
Marketing comes to the rescue
Like any business, say these alums, their organizations must understand and respond to customers. In doing so, they find their Kellogg School marketing skills essential.
Houle says Opportunity International applies best practices universally, but local environments demand certain modifications. For example, Eastern Europe's legacy of Soviet-era secret police squads means that even today some people there find it difficult to trust others in large groups. "They emerged from a regime where people would turn them in," says Houle. So, in this region Opportunity's Trust Bank model shrinks to accommodate smaller groups before gradually scaling up and "building the trust."
Learning these customer dynamics takes about 3,000 loan officers worldwide who are close to the local cultures. "This is really about marketing," says Houle, who recalls the value of her Kellogg School experience, particularly the Global Initiatives in Management course that took her to India for an academic project. "It's understanding a customer base and its needs, including the unarticulated needs."
SERRV understands these challenges, too, since geopolitics complicates its mission. Karl and Johnson have to remain in touch with both the First World end-users of their products as well as their artisan clients who have extraordinary needs. In Tanzania, for instance, they have begun working with a refugee group from Burundi hoping to be repatriated to its homeland, a place racked by civil war that many of the group's members have not seen in a decade or more.
"They have no ready cash and very few sources of income," says Johnson. Through SERRV's sales of the refugees' baskets, plus a special partnership with Lutheran World Relief, SERRV is helping stimulate demand for these products, providing an infusion of cash to facilitate the refugees' return to Burundi.
Keep hope alive
These complex and heartbreaking realities can even affect those trying to help.
"Sometimes I have this feeling, and it comes and goes, that this is hopeless, that no matter how much we do, there's going to be a million people who aren't being helped," admits Karl, who says her Kellogg education has been one source of strength as she has assumed professional leadership roles. Her philosophy of focusing on individual lives that are being changed has kept her optimistic. "Even if the system hasn't changed 20 years from now, there are individuals whose time on this planet has been made better."
Johnson agrees: "SERRV was created to foster social and economic justice, and that's what we're doing. We focus on the message of hope that creates opportunities where otherwise there may have been none."
For Houle, optimism springs from her organization's business model, which she says has the ability to make a dollar work harder over time.
"I know our efficiencies, how we train our loan officers. I know the power of this leverage," she says. "When we look at all the factors, to help one poor person in Year One it costs $10. Over 10 years, it costs $1 because the money keeps working."
Big dreams don't come wrapped in paper more modest, but the results conjure hope and an old tale about a few loaves and fishes feeding a multitude.