Flashback 1979

"One of the lessons I learned through student activities at Kellogg was the role of the leader in defining a vision of what could be in an organization, and then working hard to make reality catch up to that vision. Once we defined the GMA as a vibrant, active organization providing real benefits to Kellogg students, many people were willing to build that reality. That's a leadership lesson I've come back to many times in my career." Fred Hundt '79, Graduate Management Association president
Enduring culture unites past and current students
The strength of the Kellogg culture over the years is remarkable, and it has evolved: Today, students play important roles in nearly all aspects of the school, partnering with faculty and administration to bring more academic rigor to the curriculum. For instance, student ideas are reflected in the enhanced Pre-Term orientation program -— an elaborate annual event orchestrated by second-year students for the benefit of the incoming class — and the Social Enterprise at Kellogg major.
Clearly, Kellogg students do not have to wait until graduation to become leaders — opportunities to do so are everywhere at the school today, says Dean Jain. They can join dozens of clubs, including the Business Leadership Club, the Black Management Association and the Women's Business Association, or others engaged with the larger community, such as Business With a Heart, the Neighborhood Business Initiative and the Social Impact Club. They can also participate in running one of 12 student-driven annual conferences addressing subjects as disparate as marketing, technology or private equity. Civic leadership opportunities present themselves in the form of events like Pre-Term and Day At Kellogg (DAK), an on-campus recruitment effort.
"Even before attending Kellogg, students [during DAK] find that the culture here is one that allows all individuals to explore interests and to test and tune each of their personal leadership skills," says Affiong Bassey '06, co-chair of the Black Management Association (BMA). Most Kellogg organizations encourage students to assume leadership roles during the first year, she says, providing the chance to gain immediate experience through DAK and the student government.
"The environment at Kellogg is extremely vibrant and not taking on a role in a club or organization would detract from your overall MBA experience," adds Clay Virgil '06, BMA co-chair. Both students note that the BMA is an organization founded on the principle of being a family.
"We hold one another responsible for our academic success as well as for our personal and professional development," says Bassey. The group provides very strong support for its members, she explains, including tutoring and one-on-one mentoring.
As is typical at Kellogg, the BMA strives for school-wide inclusion, even though its mission is explicitly oriented to "develop Black leaders." Says Virgil, "We continue to involve the entire Kellogg community in all we do and include everyone in our 'family.'"
This sense of family, along with a diverse portfolio of opportunities, attracted Marc Landsberg to the school as a student in 1987. Having little previous business experience, but a desire to master marketing, he looked for a world-class school that also demonstrated a "tremendous commitment to cultivating the human side of business" as much as the corporate fundamentals.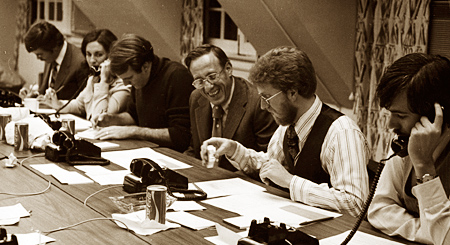 Shoulder-to-shoulder with students and alumni during a 1976 fundraiser, Dean Emeritus Donald P. Jacobs has a laugh in between making phone calls to generate support for the school.
"I wanted to make the connections in my professional life that mirrored the sorts of relationships I wanted in my personal life. I had a very strong sense that Kellogg was going to be that kind of place, and obviously it was," says Landsberg '89, who became GMA president and today is the president of Arc Worldwide and a member of the Kellogg Alumni Advisory Board.
He viewed his Kellogg School experience as both an obligation and an opportunity. "I felt there was a real stewardship opportunity during this two-year window to make a difference for students who came after me," Landsberg says.
This sense of stewardship is passed from class to class at Kellogg, a central part of the school's culture and a quality that takes root easily in many students — even when it initially surprises them.
"I didn't come to Kellogg planning to serve on the student government," says Barry Grant '03, now senior product manager for Pay Pal/eBay. "But I quickly learned that to really experience what it's like to run a large organization and develop the managerial people skills, there's no better way than to go for the GMA presidency. I knew I would be partner-managing this very bright, top-of-the-top group of students, while also answering to a constituency of 1,300, including the administration.
"I figured if I could do this well, it would prepare me for managing in the real world."
The administration always listened to students, says Grant. Ideas ranging from a ceremony to honor Kellogg alumni who died in the 9/11 attacks, to facilities improvements or cafeteria menu planning saw action as a result of the GMA partnership with the school, he says.
This team-oriented environment fuels the school's academic life, says Dean Jain. "Leadership has several components for us. We emphasize the critical importance of knowledge; students are co-creators of knowledge with our faculty. Of equal importance are the soft skills, the human touch of leadership," he explains. Social responsibility, adherence to a strong ethical code and a spirit of what the dean calls "positivity" — or the passionate pursuit of innovative solutions despite obstacles — round out the major leadership components instilled by Kellogg.
"After receiving my offer from Kellogg to spend the spring and summer working for nonprofits in Mozambique and London, I saw firsthand the positive impact they made on their local communities and society as a whole. My work with the Kellogg Social Impact Club has focused on how we can communicate that corporate social responsibility as an important part of every true leader's guiding values, and that for-profit business can be a significant catalyst for change."

David Hegarty '07
Due diligence sharpens students
Student contributions have proven so valuable in part because of the respect Kellogg School faculty and staff show their younger collaborators. This respect includes taking students seriously enough to challenge their ideas, sharpening them in the process.
Professor David Besanko recalls the dynamics between students and staff on the curriculum committee in 2001 and 2002. The committee, chaired by Besanko who at the time was senior associate dean for academic affairs, was tasked with reviewing the school's offerings. Among the major initiatives to come out of this process was the Pre-Term program, which was debated robustly by all parties. Of particular concern to students were proposed changes to shorten class sessions slightly. This shift was part of a plan to introduce a Management and Organizations course that now begins the school year, permitting students to enroll in core courses such as finance or marketing sooner. The school viewed these changes as beneficial to students seeking to bolster their skills in advance of summer internships, increasing their odds of obtaining one.
"Students certainly had a voice on this package of proposals," says Besanko. "The process helped us on the curriculum committee and in the administration who supported these proposals but who were eager to see them thoroughly aired. It gave us the peace of mind to know that we weren't forcing something on students without them having a say."
Ultimately, says Besanko, the faculty makes curriculum decisions, but the school certainly values student input and strives to garner student approval.
Mark Moore '03, who served alongside Besanko on the committee, appreciated this framework. The former GMA vice president recalls the experience as being "friendly and united," with brainstorming sessions generating many ideas that were then carefully considered.
"The administration was cautious at implementing change — open and receptive, but careful to make sure that all alternatives were considered," says Moore. "I learned the importance of due diligence in building a case for change. A good idea gets you halfway there, but the devil is in the details. It is critical before presenting an idea that you have thought through every contingency, considered every option, researched every angle and briefed every stakeholder."
Such insights are learned from experience, an opportunity afforded by these student-faculty partnerships, says Dean Jain.
"At Kellogg, we regard students as more than just customers, and we think of our alumni too as partners, lifelong partners who are aligned equally with us," he explains.
The roots of such partnership are long, dating back decades and interwoven with those individuals whose pictures appear in Ed Wilson's office library. While the mid 1970s are a lifetime ago, they are also where the origins of the Kellogg School's team-oriented philosophy first sprang to life, says Wilson, noting the development of the Organization Behavior Department and the role of professors such as Robert Duncan in establishing a collaborative environment at the school.
"Before this, working in groups would have seemed like cheating," says Wilson. "This team concept may not seem so startling today, but can you imagine how much more rewarding the academic experience is when you work with others in an interactive, participatory environment, seeking answers to challenging problems?"