Student conferences generate knowledge and offer leadership opportunities
The Kellogg School of Management hosts several annual conferences each year. The conferences bring business leaders from around the world to the Kellogg School campus. If your company is interested in getting involved with a conference, please contact the student representatives for that conference or an Assistant Director of Corporate Relations: Jennifer Johnson, at 847-467-1301 or Malissa Burke, at 847-491-3548.
Here are just a few highlights from recent student-driven events.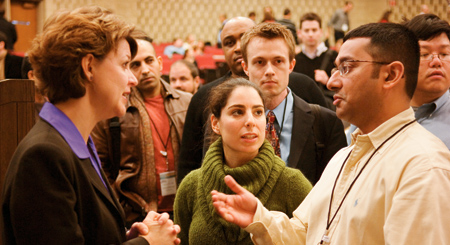 Students talk with Yahoo! CMO Cammie Dunaway, left, at the 2006 Kellogg Marketing Conference.

Photo © Nathan Mandell
Marketing Conference
Kellogg School students coordinated the sold-out 2006 Kellogg Marketing Conference. Titled "Marketing for tomorrow ... TODAY," the conference brought together expert speakers and panelists from industries as diverse as candy (Richard Lenny '77, chairman, president and CEO of Hershey Foods), computers (Cammie Dunaway, Yahoo! CMO) and credit cards (Charles Weir, director of marketing at American Express). New to the conference this year was a series of marketing refresher courses led by Kellogg professors. Said conference chair Michelle Reyes '06, "A lot of the value of the MBA comes into play when you start applying the theory you learned in the classroom."
| | |
| --- | --- |
| | |
| Cordis Cardiology President Rick Anderson, left, at the Biotech and Healthcare Conference in January. Photo © Nathan Mandell | |
| | |
Biotechnology Conference
"If you're just interested in marketing, you could market macaroni and cheese," said Shelley Sandell '06, co-chair for the 2006 Biotech and Healthcare Conference. But in the biotech industry, innovators and marketers alike must share a passion for helping people, she said. Keynotes and panelists at this conference, including Cordis Cardiology President Rick D. Anderson, spent a day in January discussing the challenges facing the industry as healthcare costs rise and government dollars dwindle. Said Anderson, "There is no Wal-Mart model in healthcare."
| | |
| --- | --- |
| | |
| | McDonald's Executive Vice President Mary Dillon, left, discussed the pursuit of the work-life balance at the Women's Business Association Conference in January. Photo © Nathan Mandell |
| | |
Women's Business Association
The students who organized the 2006 Women's Business Association Conference defined their mission as "to educate and inspire female leaders of today and tomorrow through an open discussion, idea exchange and network that promotes a commitment to women's success in business, life and society." Though many of the accomplished female leaders brought together by this year's event had different ideas about what it means to succeed as a woman in the commercial world, there was at least one point on which they all seemed to agree: It's time to remove the scare quotes from "women's issues" and address work-life balance from a more expansive perspective that includes all employees.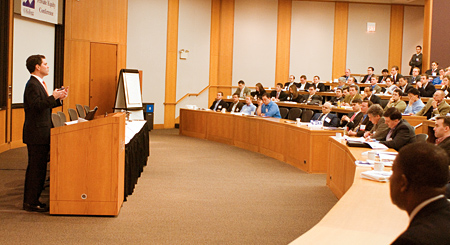 Robert L. Berner III '86, managing director of Ripplewood Holdings, speaks in the James L. Allen Center during the 2006 Private Equity Conference. Photo © Nathan Mandell
Private Equity Conference
Each year, Private Equity and Entrepreneurship at Kellogg — a student organization with more than 700 members — brings the Private Equity Conference to Kellogg. The group's Web site describes the conference as "an open, interactive forum for students, alumni and principal investment professionals to discuss trends and lessons learned, as well as debate current hot topics in the private equity industry."