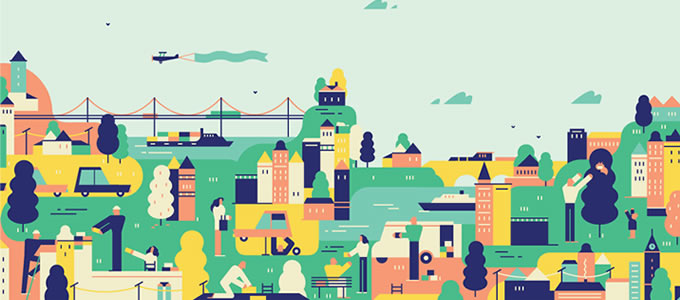 ENGAGING PUBLIC POLICY
JANICE EBERLY, FORMER CHIEF ECONOMIST FOR THE U.S. TREASURY,
SAYS COMPANIES SHOULD SEEK OUT POLICY INTERESTS AND CONTRIBUTE
By CHUCK MCCUTCHEON | ILLUSTRATION BY MUTI/FOLIOART
Since returning to Kellogg from a stint as a top U.S. Treasury Department official, Janice Eberly has been adamant: Companies need to have a more constructive role when it comes to public policy.
"In public policy and on public issues, more often than not businesses wait for an issue to come up and then respond," says Eberly, the James R. and Helen D. Russell Professor of Finance and faculty director of Kellogg's Public-Private Initiative (KPPI).
The solution is what she calls "engage policy," in which companies identify a policy interest and develop ways to contribute that not only align with their business but also contribute substantially to shaping policy outcomes.
Eberly, who served as the U.S. Treasury Department's assistant secretary for economic policy from 2011 to 2013, says companies need to determine which issue matters most to them, then assess if they have the knowledge to engage on it: "If you have particular resources, or tactics expertise, or have data that makes you a leader on the issue, you then look for the alignment to support the public good."
areas of expertise:
Corporate capital structure, macroeconomics, monetary policy, real options (investments)
Senior fellow at the Brookings Institution and co-editor of their flagship journal, the Brookings Papers on Economic Activity.

Assistant Secretary for Economic Policy at the U.S. Treasury (2011–2013), Chief Economist at the Treasury, leading the Office of Economic Policy in analysis of the U.S. and global economies and financial markets.
She cited an example of that approach in action in 2013, when Facebook founder Mark Zuckerberg and other Silicon Valley technology leaders took an avid interest in immigration reform. They launched FWD.us, an advocacy group that ran television advertisements and sought to raise awareness in other ways about the issue. Their interest — and expertise — stemmed from the continued need to ensure that foreign high-tech workers receive visas, and Zuckerberg's stature gave them obvious credibility.
Another example came when the U.S. Chamber of Commerce decided to engage on transportation. It helped launch Americans for Transportation Mobility Coalition — business, labor and transportation groups making the case that deteriorating roads and bridges are detrimental to businesses, as well as to growth in the U.S. economy.
That argument has resonated with many state governments, even as Congress has been at odds over the issue. "The opportunity for businesses in those states is that you have a much more direct connection to state and local business leaders," Eberly says.
This can be an easy opportunity to scale for some companies, she says. In 2008, tax-preparation giant H&R Block launched a project in Ohio and North Carolina. The program provided free help to low- and moderate-income families in filling out and filing application forms for college financial aid. Then everyone watched as college enrollment rates rose 30 percent among high school seniors and 20 percent among young adults already out of school who participated in the program.
"What does H&R Block have that helps with financial aid? The information," she says. "They have almost all the information that you need to fill out the federal financial aid form. It's in their wheelhouse."
Eberly believes it's important for companies to make customers aware of what they are doing. While recently flying back from New Zealand on United Airlines, she watched a video on the plane showing how the airline had delivered mail and food across the islands of Micronesia.
"They were telling me that they were part of the community and deeply connected to it — and that mattered to their customers," she says.