The Science of Lean Operations
Identify and Alleviate Bottlenecks in Your Process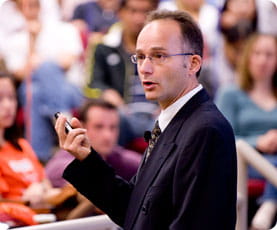 Previously named: The Science of Lean Six Sigma Operations
Generate a sustainable advantage in cost, quality, speed and customer service to achieve world-class performance. Using real-world case studies, group workshops and animated computer simulation models, you will explore a framework for diagnosing, improving and designing effective processing systems and for identifying leverage points with the greatest impact on the bottom line.
The business process flow paradigm examines an organization as a collection of business flows with a critical link between operational drivers and strategic success. You will analyze a set of "laws" representing the core science of lean operation in a collaborative learning environment. These tools provide a firm scientific foundation for the practice of lean six sigma operations to put into action in your organization.
This program is not meant to prepare managers for Six Sigma certification, but rather focuses on using Six Sigma as well as other measurements and tools to drive more efficient business strategies and processes.
Operations Management Week
You may combine this program with our
Supply Chain Management
program in
Operations Management Week
. When taken consecutively, these programs are offered at a discount and provide an executive summary of the innovative approach to operations management used in the highly-acclaimed Kellogg MBA program.
Download a Brochure
Upcoming Sessions
Apply Online

$4,000

[+]

June 7-9, 2015

Fee includes lodging and most meals
Connect with the Kellogg School of Management and stay up to date on the findings from our latest research. Followers of Kellogg will receive updates on trends in executive education and upcoming courses at the Kellogg School of Management.