The Science of Lean Operations
Identify and Alleviate Bottlenecks in Your Process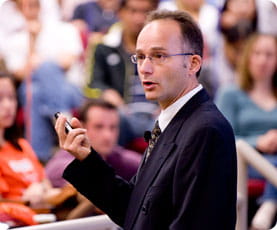 Previously named: The Science of Lean Six Sigma Operations
Designed for managers, consultants, and other individuals involved with an organization's operations, this collaborative learning experience will show you how to optimize your organization's costs, quality, speed and customer service – all of which will make a significant impact on your bottom line. Frameworks for diagnosing, improving and designing effective processing systems will be explored through real-world case studies, group workshops and animated computer-simulation models.
Under the guidance of an esteemed faculty team, you will analyze the laws that represent the science of lean operations, explore the Business Process Flows Framework, and investigate the critical link between operational drivers and business strategies. Taken together, these exercises will help you master and implement the practice of Lean Six Sigma operations at your organization.
Operations Management Week
You may combine this program with our
Supply Chain Management
program in
Operations Management Week
. When taken consecutively, these programs are offered at a discount and provide an executive summary of the innovative approach to operations management used in the highly-acclaimed Kellogg MBA program.
Download a Brochure
Upcoming Sessions
Apply Online

$4,200

[+]

April 09-11, 2017

Fee includes lodging and most meals
Connect with the Kellogg School of Management and stay up to date on the findings from our latest research. Followers of Kellogg will receive updates on trends in executive education and upcoming courses at the Kellogg School of Management.

LEARN ABOUT | Negotiation | Leadership | Brand Management | Data Analytics