Strategic Data-Driven Marketing
Optimize Marketing Performance and Return on Marketing Investment (ROMI)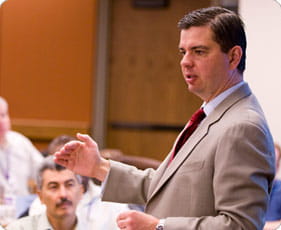 Engaging, practical and cutting-edge, this program will inspire you to design and implement data-driven marketing strategies for your organization. Representing a fundamentally different approach to marketing, the program presents a holistic view of data-driven marketing by including concepts from branding, campaign management, marketing metrics, marketing analytics, technology management, change management and finance.
In a collaborative learning environment, you will learn how to measure marketing ROI, justify marketing spending, maximize marketing impact in consumer and business-to-business settings, optimize Internet marketing, adopt best practices for customer lifecycle management and implement state-of-the-art segmentation techniques. Other topics include simplifying data analysis, future trends in marketing, value-based marketing, search-engine marketing and more.
Note: The October 2015 program will be held at Kellogg's downtown Chicago campus, Wieboldt Hall, located at 340 E. Superior Street.
The October 2015 program fee includes classroom instruction, program materials, breakfast, lunch and coffee breaks. Accommodations are not included.


Insight and Analytics Week
You may combine this program with our
Customer Insight Tools
program to participate in
Insight and Analytics Week
. When taken consecutively, these programs are offered at a discount.
Program Materials
Brochure

Download a brochure to learn more about the program.

Application

Download an application and apply today.
Connect with the Kellogg School of Management and stay up to date on the findings from our latest research. Followers of Kellogg will receive updates on trends in executive education and upcoming courses at the Kellogg School of Management.