Constructive Collaboration: Driving Performance in Teams, Organizations and Partnerships
Drive Performance and Value Creation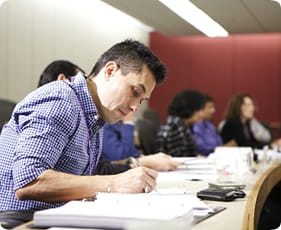 Well-designed collaboration powers value creation and sparks creativity. In this intensely interactive program, you'll learn the conditions and competencies that foster highly productive collaboration at the individual, team and organizational levels and how to build and sustain these in your company and its people.
At the individual level, you'll explore collaboration styles, behaviors and approaches for working with business partners, colleagues, competitors and customers. At the team level, you'll examine the multiple interests and perspectives that challenge effective collaboration. Organizationally, you'll learn the conditions for successful collaboration in joint ventures, mergers and alliances, as well as interdepartmental and cross-departmental initiatives.
Program Materials
Brochure

Download a brochure to learn more about the program.

Application

Download an application and apply today.
Connect with the Kellogg School of Management and stay up to date on the findings from our latest research. Followers of Kellogg will receive updates on trends in executive education and upcoming courses at the Kellogg School of Management.