Bala Janakiraman, Director, Product Management, Litle & Company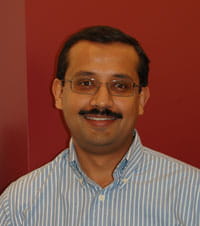 When Bala Janakiraman was early in his career at Litle & Company in Boston, he was given a remarkable opportunity.
"Our CEO instituted the "Vision, Mission, and Values," award," said Janakiraman. "He asked the directors of the company to nominate someone they believed exemplified Litle & Company's values in their day-to-day job." Janakiraman had been on the job about one year and was the first to receive the award. It provided a significant amount of money that he could use to advance his career in any way he chose. "They didn't put any limits on what I could do with it."
He chose to use it in a way that would set a precedent for subsequent winners, one that would "help the person who receives it to grow as well as bring back skills that could help the company do better in the marketplace."
Litle & Co. is a business–to-business firm that processes payments for companies that are selling in a non face-to-face environment like the internet, call centers or catalogs. Their clients include firms such as GoDaddy.com, LegalZoom.com and the USO. When the firm was established in 2001, there were few competitors for what is called card-not-present (CNP) commerce and Litle was a market leader. But as more firms entered the CNP transaction processing business, the service became commoditized. Janakiraman decided that the challenge of establishing dominance in a commoditized environment is what he would address with his award.
Selecting the right program

His search brought him to the Kellogg School's five-day "
Business Marketing Strategy
" program, led by 
Professor James Anderson
, who is an international authority on business-to-business strategy and one of the most widely-cited researchers in the field. "Kellogg provided me in advance with a schedule of exactly which part of the program would be taught by Professor Anderson," said Janakiraman. "I wanted to make sure that I got the full benefit of classes that he would be teaching because he has written so much about bringing value to a business-to-business environment."
"You can get a lot of practical information from reading, but what I was looking for was the practitioner's insight into how to get things done."
Janakiraman came to the Kellogg program with a specific problem in mind—how to establish quantifiable customer value when the firm's main product had become commoditized. "When somebody signs up for our service, it is usually for a three-year contract," he said. "When the contract is coming up for renewal, our competitors are usually invited in and as with any competitive market, prices go only one direction—down." He says the challenge was to reverse that trend.
The value of peer learning

When he looked at the list of his fellow program participants, Janakiraman understood one of the most important benefits of a Kellogg open enrollment program--
peer learning.  
"I could see VPs, CEOs, Chief Operating Officers, and Chief Marketing Officers…as we started to talk I found out that the problem of commoditization that I was facing was being felt across different industries. Whether it was telecom, oil and gas, consumer goods or groceries, the problems were very similar. I could see solutions that others had tried or were going to try."
Janakiraman says he realized that he would not have to invent the tools needed to deal with his problem, it would be a matter of applying the tools to his particular situation. "Doing the case studies, with each person bringing their own experience and applying the tools we were learning was extremely valuable."
Ideas for action
During the course, Janakiraman kept a notebook in which he wrote down ideas for ways to apply Anderson's concepts about value in a business-to-business environment to the challenges Litle & Co. was facing. "I would immediately think what can I do with my product line, what can I do with the services we offer our customers where we could apply some of the principles we were learning."
Janakiraman said that when the course was over he didn't have to reflect on what to do with the learnings. "I already had a good list of ideas and how I was going to apply them. When I came back to Boston I wanted to make sure that the learning was not just in my head. I needed to push it into the other departments in the company so that everybody would start thinking about a value-oriented message as we go into the market."
Adding quantifiable value

The remarkable part of Janakiraman's tale is the way Litle & Company applied the principles of Anderson's course. It started with Janakiraman distilling what he learned into what he calls the "principles of values driven management." He says, for example, that Litle has always distinguished itself on customer service. After the course he took the concept an important step further. "Previously we made no effort to quantify what service meant. So it seemed like an intangible, unquantifiable, soft benefit. The course helped me put down hard dollars and figures against what to expect from our service."
Because they are able to obtain so much marketplace information through the processing of sales transactions, Janakiraman realized that Litle & Company could bring added value to its clients by providing them with important customer insights. They instituted a novel approach to their business review for each client.
"Our relationship managers sit down with the VP of operations on the customer side and walk them through what we see in the data that we process for them. How are their transactions holding up over a period of time? In what markets are we seeing growth? And how do they stack up from a benchmarking standpoint against peers that are of similar size and in similar businesses."
Janakiraman says it is a strategy that recognizes the value of Litle & Company's service and quantifies what had formerly been a soft benefit. At contract renewal time, when there is an effort to drive down the price, he will acknowledge the part that is a commodity but then say: "Before you make a decision, look at the value that has come to you as a result of our consultative approach. Can the competition do that for you? That started to change the conversation we have with our existing customers and with the prospects that we are seeking."
The success of Litle & Company's service-based, value proposition is underscored by a visit to the firm's website where numerous customer service awards are proudly displayed. Janakiraman has been promoted twice since his visit to Kellogg and he has hired a person to focus on executive, value driven management while his own responsibility is to focus is on longer term opportunities for the business.
"This is exactly what we are hoping for in our open enrollment programs," says Prof. Stephen Burnett, Associate Dean for Executive Programs at Kellogg. "We want our participants to come with a problem in mind, seek a solution, and put it into practice. We want them to return to their business and teach what they have learned to others. That is how to magnify the return on investment in executive education."