1998
Hong Kong is famous for its go-go lifestyle, but Rachel Fleishman had to hit the "pause" button when Prach '98 stopped by in December to see her, Jay Sala '98 and Cynthia Meng '98 for a catch-up — fueled by the world's best dumplings. Life continues to be exciting and challenging, between raising teenagers (Eytan, 14 and Chasya, 12), having a husband who travels five days a week, and starting a new job (head of business development, BASF Asia). Sound familiar? Come visit and share your experiences — Rachel will repay you in dumplings!
James McNeil is being promoted to executive vice president and chief executive of the Business + Trade Industry Practice at SmithBucklin, a Chicago-based association management company. McNeil will lead all aspects of the Business + Trade Industry Practice, including strategy, client organization service delivery and performance. His position responsibilities also include new client development, talent development and acquisition, operational excellence, financial management, and thought leadership.
After 20 years in the travel industry, Chris Tomseth decided to take the semi-plunge into entrepreneurship. Tomseth bought a direct marketing and advertising franchise, called Money Mailer, in the Virginia suburbs of Washington D.C. He's been at it a couple of months and got the first few clients. A long way to go before real money, but he is excited about the prospects and the opportunity to keep his family in the same place, with no chance of relocation (unless he wants to) for job reasons.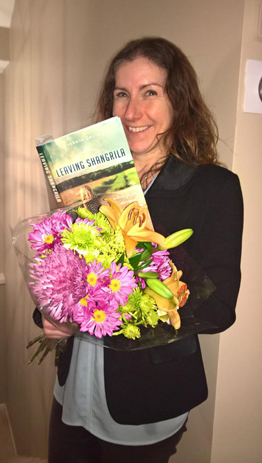 Isabelle Gecils '98 holding her memoir, Leaving Shangrila