1992
Greetings from Geneva. Bernie Armstrong and Armelle have just returned from a family trip to the Galapagos Islands and Machu Picchu. Armstrong continues to invest in and develop student housing in Australia and New Zealand, which has allowed him to reconnect with classmate David McConnell '92. David's construction company is building one of the buildings in Auckland, New Zealand.
Gary Dvorchak dispatches news from China: After a couple years living in Beijing, working for an investor relations firm, he left last spring to join The Blueshirt Group, the leading IR firm for tech and clean-tech IPOs. Dvorchak has opened their Beijing office, and is managing director leading the Asia practice. Taking advantage of the proximity to Southeast Asia, Dvorchak and family caught up with Kurt Hattendorf '92 in Bangkok last fall. Dvorchak reports that Kurt is doing well!
J. Andrew "Drew" Koecher has joined Houlihan Lokey, the global investment bank, as a managing director and head of the Transaction Advisory Services (TAS) practice. Based in Dallas, Koecher will be responsible for leading the continued build-out of the TAS practice.
Chris Martin, president of Combined Worksite Solutions, has been inducted into the Workplace Benefits Association Marketing Hall of Fame. Martin, a resident of Chicago's Edgebrook neighborhood, is receiving recognition by the associations and his peers for his contributions and accomplishments to the industry and the profession.
Brian Page resigned as CFO of Challenger Homes in Colorado Springs to become a professor of business management at Brigham Young University in Idaho.
This fall Kevin Sidders reports running into Dan Sorensen '92 in Charlottesville, Virginia, where he lives. Sorenson was in town to watch the UVA/Notre Dame football game and visit his sister, who lives there. Sidders and Sorenson said they had a nice time catching up. Sidders' company, VinConnect, which sells top European wines direct to U.S. customers, continues to grow, and Sorensen is still in the Minneapolis area working for a big health care company, United Health Group. Sidders said other classmates visiting UVA should look him up.
Matthew Allgood recently started his own independent financial planning and advice practice, Allgood Financial. He's now in his 17th year as a financial advisor, having survived the dot.com bust, the financial crisis of 2008-09, and now the difficulties of the current environment. On the personal front, Matthew and his wife are in their 25th year of marriage, covering kids at four different schools (including their oldest, who is 500 miles away from home in college). Life is fuller and busier than ever!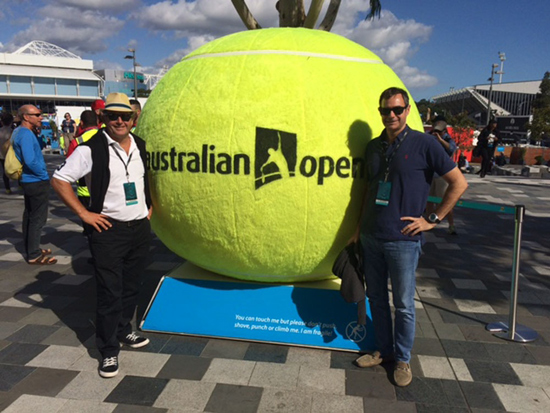 David McConnell and Bernie Armstrong (both '92) at the 2015 Austrailian Open
Leo Hermacinski '92 and Jess Cross-Call (WCAS02) on the summit of Rosablanche in Switzerland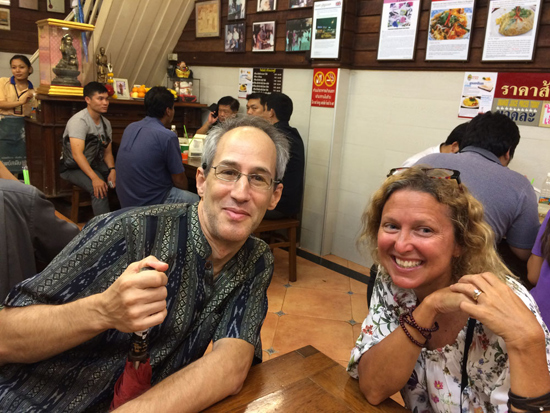 Gary Dvorchak '99 and Kellie Dvorchak prepare for amazing Pad Thai in Bangkok