In Memoriam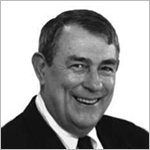 Jack J. Honomichl '50 of Barrington, Illinois, passed away Dec. 8, 2013 with family at his side; he was 85.

At Northwestern, Jack belonged to the Phi Kappa Sigma Fraternity. He served in the U.S. Navy from 1950-1954 and later earned a master's degree from the University of Chicago.

Jack began his professional career in 1957 in the marketing/advertising research department of the Chicago Tribune. A pioneer in the field of marketing research, he founded the Marketing Aid Center in 1978, a marketing research consulting firm. He wrote a column titled "The Research Beat" in Advertising Age magazine for 18 years and created the "Honomichl Top 50" U.S. ranking of market research firms, which was published for more than 40 years by Advertising Age and Marketing News. This annual report defined the marketing research industry worldwide. In 1990, Jack founded the industry newsletter Inside Research, noted by Barron's as the "The Bible of the marketing research industry."

In 2002, Jack was inducted into the Market Research Council's Market Research Hall of Fame, and in 2011 the Council of American Survey Research Organizations (CASRO) honored him with its Lifetime Achievement Award.

Jack was especially proud of his family connection to Northwestern University, which spans three generations: His wife of 50 years, Frances Wacaser '55, their daughter Ann Honomichl (NU '81), and granddaughter Lena Krause (NU '13). He is survived by his four children: Joseph Honomichl, Frances Fleisch, Ann Honomichl and Beth Cole, as well as eight grandchildren.
Timothy W. Watson '60 died peacefully and surrounded by family on August 11, 2014 at home in Mountain View, California. He died of complications of Parkinson's Disease following a courageous 15-year battle.
Tim was the beloved husband of 55 years to his college sweetheart, Ann. He was born in Boulder, Colorado on June 2, 1935 to Robert J. and Gretchen Warren Watson, and was the eldest of five children.
As a child, Tim attended St. Thomas Choir School in New York City and later graduated from Central High School in Tulsa, Oklahoma. He went on to receive a Mechanical Engineering degree from Rice University and an MBA from Kellogg. It was in Chicago in 1959 that he met the love of his life, Ann.
Tim began his career in the semiconductor industry by joining a fledgling Texas Instruments in Dallas, Texas, as part of the original integrated circuit development team. Tim later moved into marketing of silicon material in the original sales management group at Applied Materials and later joined Monsanto Electronics Materials division as a senior sales manager.
Tim was also a true Renaissance man. He loved maintaining his own landscaping, vegetable garden and collection of fruit trees at his home of 35 years in Los Altos, California. He was an avid home chef, played piano and organ by ear, and sang in the Christ Episcopal Church choir until Parkinson's eventually stole his voice. With his wife and family, he traveled to over 30 countries.
Tim was a loving and gentle father to his three children and five grandchildren. His love of family will be his greatest legacy. He is survived by his wife, Ann; his children, Cynthia, Charles and Cary; and his grandchildren, Charles, Andrew, Emily, Jack and Abigail. He is also survived by two sisters, Susan Wright and Janet Jones, and two brothers, Robert Watson and Ralph Watson.
Rita Czaja '95, passed away on Aug. 19, 2014 at her home in Janesville, Wisconsin; she was 62.
Born in Chicago to John and the late Loretta Czaja, Rita graduated from West Leyden High School in Northlake, Illinois, and then graduated magna cum laude from Bowling Green State University in Ohio with a BS in accounting and information systems. Rita was a CPA who worked at Deloitte & Touche and Montgomery Ward in Chicago. After obtaining a Ph.D. in accounting from Northwestern University, Rita taught at Michigan State University, Northern Kentucky University and the University of Wisconsin at Whitewater. Rita was a longstanding member of the American Society of Women Accountants and served as president of the Chicago chapter from 1982-1984.
After retiring, Rita loved volunteering at the Rotary Botanical Gardens in Janesville, Wisconsin. She enjoyed travel and photography, flowers and gardening, making jewelry and baking bread. Rita cared deeply about all of her personal and professional relationships and worked to excel at both.
Rita is survived by her father, John Czaja; twin sister, Sally (Bob) Schoenfeld of Whitehouse Station, New Jersey; brother, Stephen (Edi) Czaja of Broadview, Illinois; and beloved friend, Marlene Denson of Janesville, Wisconsin.
Special thanks to family and friends for their prayers and compassion, and to Home Instead and Heartland Hospice for their care in Rita's final weeks.
Kent T. Smith '03 passed away on September 12, 2014. Kent was proud to be a Kellogg graduate. An accomplished businessman, he had a passion for real estate development and a very sharp analytical mind.
Kent was an investment management professional and CPA, and a strategic thinker with investment experience in firms ranging from entrepreneurial start-ups to Fortune 500 corporations. His family, friends and colleagues will remember Kent as a caring person who would brighten the day of those around him with his great sense of humor.
His world revolved around his son, Conor. Kent was the beloved son of the late Thomas P. and Maureen A. Smith; cherished brother of Colleen (Richard) Bajjalieh, Brian T. Smith, Kerry T. (Catherine) Smith, Kathleen A. Hahn, Kevin T. Smith, Keith T. Smith and Kyle T. Smith (Julius Lieman-Carbia); fond uncle of David and Elizabeth Bajjalieh; Sean, Terrence and Thomas Hahn; Patrick and Brenna Smith; dear great-uncle of Kurt Hahn; and fond nephew, cousin and friend to many.