In Focus
Advocating for science, remarkably
National Academy of Sciences awards John E. Porter '57 the Public Welfare Medal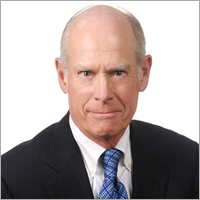 Since 1914, the National Academy of Sciences has honored individuals who exemplify the extraordinary use of science for the public good. Former member of Congress and partner in the law firm Hogan Lovells, John Edward Porter, received the 2014 Public Welfare Medal, the academy's most prestigious award. Porter has had a distinguished career advocating for science as a high national priority, and shares this honor with previous recipients including Maxine F. Singer, Carl Sagan, and Bill and Melinda Gates.
In 1995, Porter, as the new chairman of the Appropriations subcommitee that funds medical research through the National Institutes of Health, launched a much-lauded campaign that led to the largest funding increase in the NIH history. Over five years, the campaign doubled funding for NIH from $13.5B to $27B. Tireless in his commitments toward all science advancements, he also serves as the chair of Re-search!America, the nation's largest not-for-profit public education and advocacy alliance for health and all scientific research.
Upon receiving the Public Welfare Medal during the academy's 151st annual meeting, Porter shared some personal insights that led to his advocacy work: "What motivated me? My father was afflicted with polio as a child and walked his entire life with a brace on his leg. When the Salk vaccine was discovered in 1952 when I was 17 years old, the enormous potential for improved human health through medical research was brought home to me in a very personal way."
Believing in the shared value of research, policy and advancement, Porter also believes "that America's economic destiny has to be sci-ence, innovation, technology and research. They help to drive our economy, provide good jobs at good salaries and raise our people's standard of living. To ensure this future, a strong commitment to STEM education is also necessary."
Porter continues to look to the leaders of science to make this commitment. He says, "Inspiration is also needed…to bring young people to careers in science and to give the American people an appreciation for science and support for making federal funding of basic research a very high national priority."
The Space Shuttle, demystified
Edward Rafacz '97 wins NASA's 2014 Chicago Space Apps Challenge for developing a wearable manual for space shuttles
Delta Air Lines pilot Edward Rafacz does not shy away from a challenge. For NASA's 2014 Chicago Space Apps Challenge, sponsored by the Adler Planetarium, Rafacz set out to solve the "SpaceT challenge": to discover how future space tourists might be able to best capture their otherworldly experiences using smart technology.
Rafacz's proof-of-concept submission won for Best Mission Concept at the challenge, part of a larger international contest created by Space Apps, a NASA-based incubator. For his winning entry, Rafacz developed The Wearable Space Shuttle Guide Manual, a device that would display information on any instrument on the Space Shuttle with just one click.
Displayed on a small touchscreen that could attach to the forearm via an armband, the manual includes a collection of shuttle information such as system and environmental descriptions, limitations and schematics, all organized within a linked-together table of contents, index, search engine and picture index.
Rafacz, a Chicago-based pilot who's worked for Delta for more than 23 years, says that his motivation and goal with this project was to make aviation safer. "I created this [guide] to be the first step to make a human-machine interface for space travelers to use," he says.
Rafacz is familiar with this kind of work; he helped design the symbology on aircraft flight decks for the next-generation radar system, ADS-B, scheduled to be released in 2020. Wanting "to step it up a few notches," Rafacz focused on substance rather than style while building the guide. "I didn't have the 'wow' factor to win the global competition," he says, "but I had the boring functionality to show how to save a life in outer space."
Wicket Wizard
In both business and cricket, U.S. fast bowler Usman Shuja '10 dominates
When Usman Shuja became the USA Cricket team's all-time leading wicket-taker in 50-over matches, he broke a record that had stood for a decade.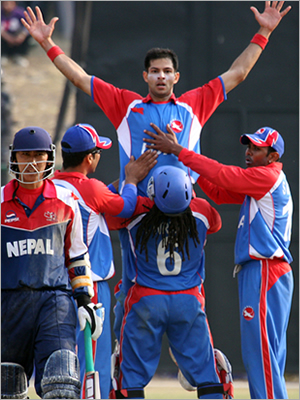 For those who don't follow cricket, this is a big deal. A wicket-taker in cricket is a bowler, analogous to a baseball pitcher. Translated into baseball terms, Shuja, as the leading U.S. wicket-taker, holds a status similar to Nolan Ryan's strikeout pitching record in Major League Baseball. When ESPN covered Shuja's record-breaking milestone in October 2014, he was called "canny and cagey" in his approach to striking out batsmen. He agrees. "I think I am that way, and as a pitcher I always use my head," he says. "Fast Bowlers in cricket are generally considered to be less shrewd."
Shuja, however, has spent years analyzing and refocusing his energies: applying raw skill in his youth, consistency and accuracy in his 20s, and intelligence in his 30s. "Given that I'm approaching the end of my cricket career, I think I'm putting all three together well," he says.
Shuja's success in business is equally impressive. In February 2014, he joined a startup in Austin, Texas, following a career at IBM and Boston Consulting Group. Joining the then-four-person team at SparkCognition, the world's first Cognitive Security Analytics company, felt like a risk for Shuja, but he was up for the challenge. "I used to be very risk-averse before going to Kellogg," he says. "I wanted to be at a company like IBM – for the rest of my life. Kellogg is where I took entrepreneurship classes that really helped me find a true passion. Kellogg opened my eyes."
Much like the way he approaches cricket, Shuja credits his career success to his ability to bring key experiences together. In his current role as the vice president of market development, he combines experiences in technical, sales and business development gained from those years at IBM and BCG, in addition to the marketing training from his time at Kellogg.
Cricket played a big role in Shuja's life at Kellogg, too: He was president of the Kellogg cricket club, where he met Rohan Sajdeh '98. They later worked together at BCG, and although the two remain in touch, their conversations typically revolve around cricket rather than business. Shuja is also credited with starting Kellogg's Sports Business Conference in 2010, and he maintains a relationship with its committee today.
Shuja's story as an American cricketer is told in the recently published Second XI: Cricket in its Outposts. Shuja contends this is a great read for anyone seeking to learn more about the sport. It's been a long and rich journey for Shuja, who first played with his professional cricketer father when he was just one year old. Now that he and his wife, Lizet Lopez Shuja '10, have a 1-year-old, Danyl, Shuja will soon have the time – and certainly the passion – to introduce his own son to the world's second most popular sport.