JULIA TANG PETERS '84
Pivot Points
The decision-making journey of a leader is nothing if not challenging. As humans, our decision-making styles fall into four categories, each of which we use at different times: The Leader (high accountability and high ingenuity), The Wanderer (low accountability and high ingenuity), The Manager (high accountability and low ingenuity) and The Clock Puncher (low accountability and low ingenuity).

In her book Pivot Points: Five Decisions Every Successful Leader Must Make, Julia Tang Peters profiles five key business leaders characterized by great leadership and analyzes data from 500 professionals to uncover the effects of those decision-making styles.

Through in-depth interviews and research, Peters identifies the five critical career decisions needed for leaders to find the most success. She acknowledges traps from nonleadership styles of decision-making as well as those that come with maintaining the status quo — commonly associated with older age, when more is at stake.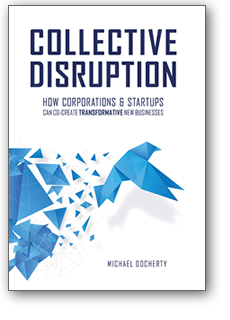 MICHAEL DOCHERTY '88
Collective Disruption
Emerging companies are disrupting established companies every day, and Michael Docherty seeks a way to embrace that disruption rather than reject it. By following a practical framework, Collective Disruption: How Corporations and Startups Can Co-Create Transformative New Businesses offers insight into effective collaboration and new sources of growth.

Docherty draws on his background as
 a corporate executive, entrepreneur and investor to show large companies ways to tap into the startup ecosystem for new sources of growth. "You tend to think of the ecosystem as the big guys eating the small guys," Docherty says. "With interdependent ecosystems in business, it's not the big who eat the small. It's the fast who eat the slow."

To co-create new businesses, Docherty reminds companies that they "must learn to play the disruption game and use it to continually reinvent themselves."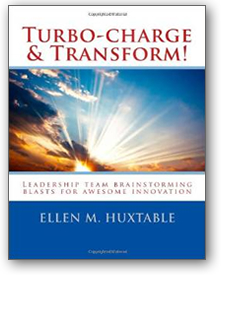 ELLEN HUXTABLE '76
Turbo-charge & Transform!
Ellen Huxtable has published a workbook promoting focus, innovation, visioning, and strategic action for business leaders and leadership teams. Her vision for the workbook, Turbo-charge & Transform!: Leadership Brainstorming Blasts for Awesome Innovation, is that it be used to supplement recurrent meeting agendas — or become the basis for on-site training and team building.

Specializing in creative, practical business solutions through her firm Advantage Business Concepts, Huxtable aims to help mobilize leadership teams and create swift, meaningful actions. With this workbook, she shares a process to keep teams on track and find ways to catalyze innovation.

In true "workbook" style, each of 20 units includes an overview, worksheet and guide for discussion, and the program serves as a basis for tracking, monitoring and creating progress among leaders and their teams.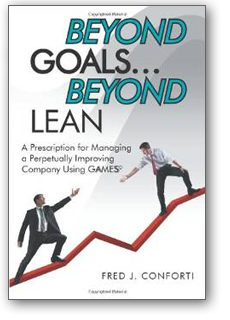 FRED J. CONFORTI '68
Beyond Goals...Beyond Lean
Learning how to accurately assess why your company may be underperforming is the key component to a successful turnaround, according to Fred J. Conforti. In his book Beyond Goals...Beyond Lean, Conforti helps executives apply the GAMES© method, stretching optimum results further than if solely relying on lean manufacturing principles. The expectation: dramatic improvements and turnarounds that could take your business from being on the brink of closing to a top brand in its industry.

Organized with clear-cut charts, images and summaries, the goal is to make identifying your needs — and following the recommended strategies — easy. When a company eliminates problems, it energizes employees and encourages a self-motivated culture, leading to overall improved health of the company.

Tim Calkins, Kellogg's clinical professor of marketing, attests to the book's power and effectiveness: "All too many business books focus on grand concepts that are appealing but not practical."