EMP-69
Crystal Smith Fazal has two gorgeous girls now: Maya, 2 1/2, and Camille, or "Cami," 7 months. Crystal is an adjunct professor at DePaul teaching an undergraduate course in effective business communication, which she loves. Husband Murad is excellent, taking over one QSR at a time.
Natasha Kennedy took the kids to the Galapagos Islands for two weeks, where they had the very best time getting away from it all and snorkeling with the sharks, seals and penguins every day. It was heaven. She also joined ORC International as the head of their global strategy research practice. It's an amazing team and they are growing globally.
After 20 years with SCJ, Eduardo Silva is joining the Ferrero Co., the maker of Nutella, Ferrero Rocher, and Tic-Tac, among other confectionery products. He is taking the role of IT area director for the Americas, UK, Australia and CIS (Russia, Ukraine, Poland), based in Luxembourg. His family moved from Manila to Luxembourg in February, trading tropical temperatures for chocolate and castles. He promises to bring some chocolates when he visits. Derek Wiebenson apparently doesn't bring enough from Zurich.
Rangam Subramanian is moving from his role as chief of wireless technology and business development at Idaho National Lab to the National Telecommunication Information Administration as chief of technology strategy. In his new role, Rangam will develop and implement national wireless spectrum efforts, facilitating R&D and national stakeholder collaboration across government, industry and academia for next-generation spectrum technology innovation, implementation and rule-making. In other words, he plans to bring order to D.C.
Crystal Smith Fazal EMP-69 and her gorgeous, brilliant girls.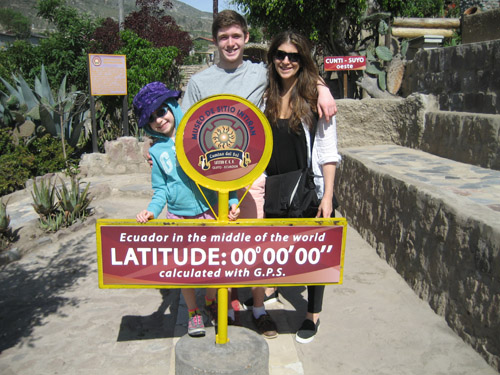 Natasha Kennedy EMP-69 with daughter Alexandra and son Ethan at Ciudad Mitad del Mundo, Quito, Ecuador.