EMP-38
Clyde Rundle coaches the St. Anne's Cardinal basketball team. Ed O'Malley coaches the Chargers of St. Alphonsus. They don't know whether EMP prepared them for this, but their "little girls" are growing up.
Jim Pogue's new role leading Prudential's Group Life and International Group business has taken him to many interesting places. Recently, he visited Hong Kong and mainland China, where he and his wife visited the Great Wall. Over the past year, they have been to Italy, Amsterdam, Belgium several times, Portugal and London. They now live in Pennsylvania and enjoy being empty-nesters. Jim's youngest daughter, Kristina, is studying in Germany.
Mark Pestrak has a new position as associate partner in CSC's big data and analytics practice. Mark and Gina reside in Naperville, Ill., with their three children.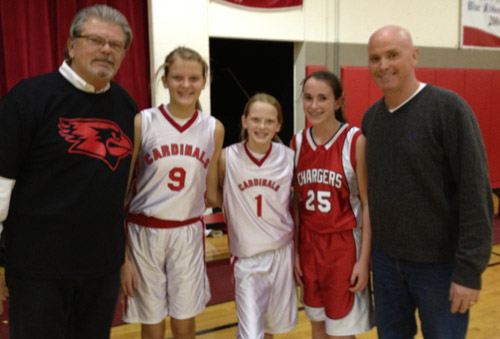 Pictured from left to right: Clyde Rundle EMP-38 and his daughters Abbie and Jackie, with Maeve O'Malley and her father Ed O'Malley EMP-38