2003
Anne (Ankle) Engelking Smith is still happily residing in the Washington, D.C. area, and even happier to share that she has left her position at AARP to become vice president of brand strategy for Choice Hotels International, based in Rockville, Md. In her new role, she oversees the business and consumer strategy for nine of the company's 11 brands, including such icons as Comfort Inn, Quality Inn and Econo Lodge.
Ben Tisdell accepted a position as senior special operations officer at the International Finance Corporation of the World Bank Group. He will be based in Hong Kong, where he will oversee workouts of troubled loans throughout the Asia-Pacific region. He was formerly a vice president in the restructuring group of Lazard Frères & Co. in New York. He moves to Hong Kong with his wife, Alexis Siggers, and their daughter, Nora Joan Tisdell.
Edward Sim took a trip home to Singapore over Christmas. Despite the 38-hour trip from Charlotte, N.C., to Houston to Moscow to Singapore, it was worth every bit for Alex and Emma to see their grandparents and hang out with their cousins. Of course, they caught up on all the delicious food in Singapore: chili crab, char kway teow, dim sum, etc. They also visited some tourist sites, including the Gardens By the Bay.
After three years, Derek Yung recently left Nextag/Wize Commerce and joined Tria Beauty, the maker of a line of laser-based skin-care products. Derek never thought he would work in the "beauty" sector, but he did go to his high school prom with the prom queen. For him, it is a great opportunity to join a late-stage, high-growth startup likely to go IPO in the near future.
The family of Martin Longo got bigger when Ema Longo Toro was born on Nov. 9, 2013. She is a healthy baby!
Jason Kasarda recently joined McKesson's Global Sourcing team, focusing on finance and supply chain analytics.
Ajay Chawan has changed gears. In January, he joined Audi of America as the launch manager for its upcoming A3 hybrid. Ajay is commuting to D.C. from Nashville, Tenn., for the next few months and hopes to move the family later this year. Britta, Jaideep and Mila are all doing great.
Jan Rohde and his family are now living in Dubai, United Arab Emirates, their sixth country post-Kellogg! Jan accepted a position to head up tourism strategy for the Dubai government and support it in achieving its goal of attracting 20 million visitors by 2020. Jan's idea is to have many Kelloggians join those numbers. You are certain to have a home here with Jan and fellow 2003 graduates Tindley Gilbert and Rich Ryu.
In October 2013 and under a full moon, Cheril (Santini) von Barsewisch and husband, Henning, welcomed Dillon Ernst Anton, their fourth child and second son, to the world. With Dillon's healthy arrival and Henning's weekly commute to his new job as CEO of the Dutch company Triogen, managing the family through survival mode on this thrilling new roller coaster has become Cheril's key activity for the next year!
Christopher A. Bayham was named to Crain's Cleveland Business' Forty Under 40 list in November 2013. Chris has served as the chief information officer of AssuraMed since 2012.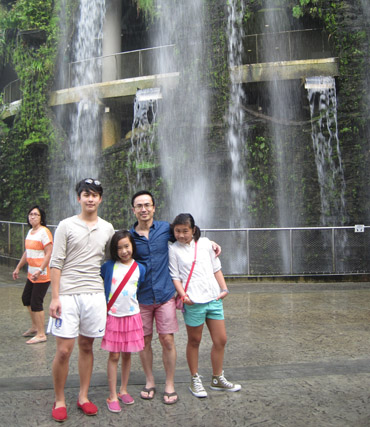 Edward Sim '03 at Gardens By The Bay in Singapore with children Alex and Emma and niece Giselle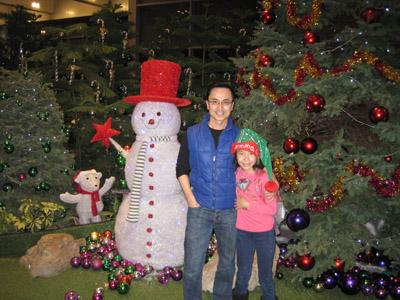 Edward Sim '03 and daughter Emma at Changi International Airport in Singapore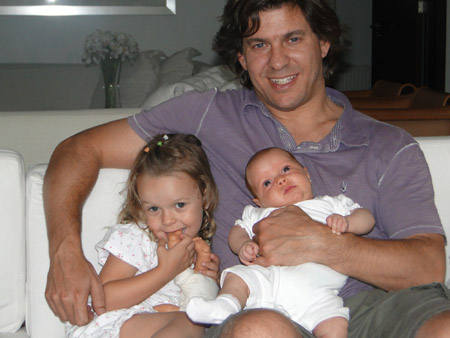 Martin Longo '03 with daughters Olivia and new baby Ema.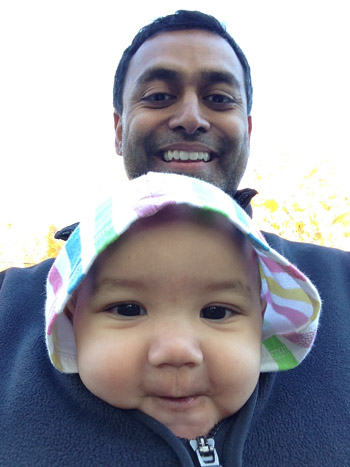 Ajay Chawan '03 takes a selfie with daughter Mila.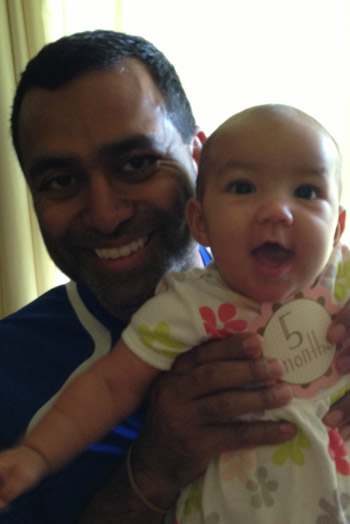 Ajay Chawan '03 with his daughter, Mila, on her five-month birthday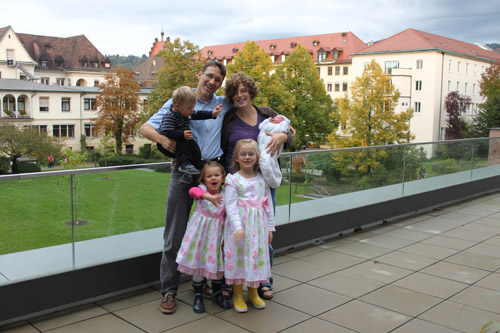 Cheril (Santini) von Barsewisch '03 and husband Henning welcomed Dillon, their fourth child, and second son, to the world.
Dean Lindo '03 and Katja Lindo '04 with sons Alec and Niklas having a fun afternoon at a pool in Munich with Cheril (Santini) von Barsewisch '03, husband Henning and children Hamilton, Isla and Catalina