1984
Claire Farber's new book, "Brand Guys," puts a fresh spin on meeting Mr. Right by applying marketing principles to the subject of dating. The book's aim is to help readers go into dates "more fully aware of who that guy is, what kind of life partner he will be, and whether he has the potential to make you truly happy."
Renee Hochberg was stunned to get her 30th reunion invitation. She recently celebrated her fifth anniversary at Towers Watson after more than 23 years at Hewitt. Her younger child is a freshman in jazz studies at Oberlin Conservatory. Her elder child is a junior at Georgetown School of Foreign Service and will spend the spring semester in London.
John Kriz enjoys working full-time in asset management in Connecticut. He is active in farmland preservation as a board member of Connecticut Farmland Trust and in nutrition education with the Weston A. Price Foundation. His most recent adventure was an expedition to northeast Greenland on a wooden schooner. Part of the excitement came from dodging icebergs and having to carry a rifle when ashore.
Luc Clarys' online health store He-Be is starting to perform well. He-Be offers pure and healthy raw food for the connoisseur that is tasty and easy to prepare. He is looking forward to the next reunion and hopes to see many classmates.
In June 2014, Michael Mandala will become president of Verbum Dei High School in the Watts community of Los Angeles. "The Verb" is a Jesuit college prep school for boys from very low-income families. One hundred percent of graduates are accepted into college. The Verb welcomes your involvement.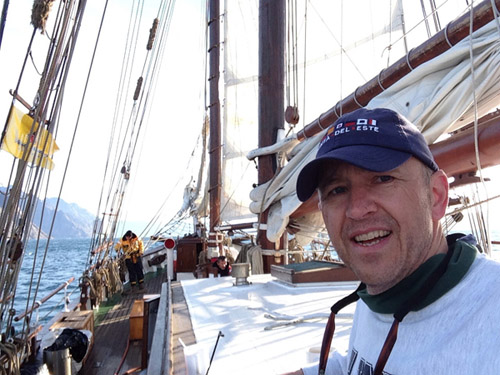 John Kriz '84 aboard the schooner Opal in Scoresbysund, Greenland.

Los Angeles City Council Member Joe Buscaino with Michael Mandala '84 and Verb Honor Students.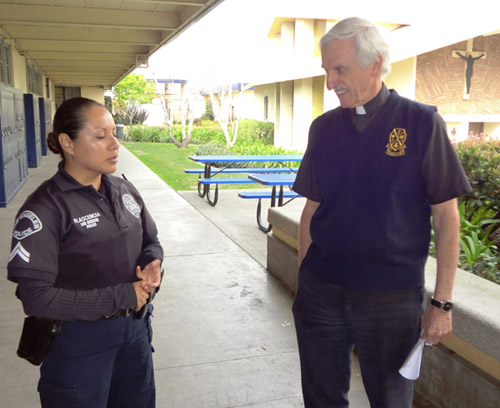 Officer Maribel Placentia of the LAPD with Michael Mandala '84 as part of the career day presentations at the Verb.