1992-FT
Gerard Beenen's four kids are doing well and visited England and Scotland last summer. Gerard was recently awarded tenure at Cal State Fullerton, where he is currently vice chair of the management department and acting associate dean for graduate programs in the Mihaylo College of Business and Economics. He teaches undergraduate and MBA courses in organizational behavior, leadership, negotiation and organizational change, and his research focuses on workplace motivation and learning. He's also an adjunct professor in the MBA programs at Carnegie Mellon University and UC Irvine, where he is a visiting associate professor during his Fall 2015 sabbatical. He completed his PhD in organizational behavior and theory at Carnegie Mellon in 2008. He still does occasional consulting projects and is an advisor to several organizations. He and his family are active members of Irvine Presbyterian Church. He regularly enjoys surf sessions before work in Newport Beach.
After more than four years as CMO at Jaspersoft, Jim Bell's company was acquired by TIBCO Software in April 2014. He is now having a blast as CMO at Glint, a startup software company focused on measuring and improving employee engagement. The company launched in February 2015 and released a mobile app in July. On the home front, his wife, Angela Comstock, is doing part-time finance work for a couple of clients and continues her school and community work. Their kids, Lauren (17) and Jack (15), are enjoying high school as a senior and freshman, respectively. Life, he reports, is great.
Pat Burns reunited with Bill Lakenan (now with KPMG). Bill assists Pat with strategy and execution at Johnson Controls Inc., where Pat is vice president corporate strategy. Pat notes that it is cool to "literally run in to him in the hallways now and then." Pat's daughter, Lauren, started her undergraduate program at Northwestern last fall; and so he tells son Patrick that he has to go to a service academy. Pat also ran into Dean Chamberlain '92 at the Army/Navy game last autumn. Pat said, "It was great to catch up with him to hear about his family and how he's growing Mischler Financial."
Carter Cast continues to teach at Kellogg (entrepreneurship), so if you find yourself wandering around the Jacobs Center in Evanston, he'd like you to look him up. He got together with Doug Struckman last month and he still looks like he could play tight end for the Princeton Tigers. Carter suspects that Doug either eats like a supermodel or suffers from a tapeworm.
Riff Coven notes that life seems to be all about work, fatherhood and little else. His company, PaceControls, is working to close its B-round cap raise, which includes a major strategic investor. At the same time, his company is gearing up for massive growth, which means little time off. He took his family to Evanston for three weeks — where he worked remotely — and took a few days off to visit family and escape a chunk of the muggy Maryland summer.
After 10 great years with Experian, Rick Erwin moved from Chicago to the Bay Area to run the much larger global data and analytics business for Acxiom. He sees his new role as a chance to expand his influence in the rapidly growing industry of data-driven advertising, but he does miss his great Experian colleagues (including Kellogg alum Rick Gallagher '92). He loves being at the epicenter of marketing innovation. He works on making it possible for all ad media to be targeted and measured at the individual or household level, while protecting consumer privacy. Acxiom will do nearly $1 billion this year and is growing rapidly. His wife, Dixie Adams '96, continues to thrive at IBM, running the strategic outsourcing business in the NA Industrial Sector.
John Fanning is the new director of college initiatives for Aspire Public Schools, a 38-school charter management organization, and is enjoying this great new opportunity. His position will keep him in the San Francisco Bay area. He'd love to hear from you if you're out his way.
Joe Fisher is extremely pleased that his stepson, Austin Wilson, is attending Kellogg as a member of the One-Year MBA Program Class of 2016.
Larry Gies participated as a panelist at a Kellogg event. He has built a $5 billion industrial business from scratch since graduation with Madison Capital and now Madison Industries.
Gary Ger recently welcomed a new baby into his family.
While Ken Graves loved his eight-plus years in Tokyo, where he was partner and Japan practice head for LEK Consulting, he transferred back to the United States this spring. He's back in his old stamping grounds as part of LEK's Chicago office and looks forward to reconnecting with classmates in the area.
Jeffrey Gilbert thinks he might be the oldest first-time parent in the class. He and his wife welcomed daughter Shannon Kate into the world in October 2014. He reports that he has received a full night's sleep, and he and Jenilyn couldn't be happier.
Leo Hermacinski achieved a long-held ambition when he skied the Haute Route from Chamonix to Zermatt in April 2015. He joined a party of six, which, by chance, included NU 2002 grad Jess Cross-Call, so Northwestern was well represented. The weather was unbelievably good, and they had snow for the six-day trip. He's now back at work planning similar escapades for next year.
In August 2014, after six years in Southern California, Kevin Hykes moved his family of six back home to Minnesota, just in time for the start of high school. The decision was tough for the family, but they could not resist Minnesota's unique combination of California-like taxes and Polar Vortex weather. He is still in the medical device space and is currently CEO of an early-stage venture, Metavention, focused on type 2 diabetes. He also moonlights as an operating partner for Versant, a Bay Area venture capital firm. His son is friends with Lana (Etherington) Slavitt '92's son, so he sees her relatively often at school. She lives nearby in Edina, Minnesota, where they've resettled. Bill Sharpe '92 lives nearby and reports that his kids are now off to college. They are adjusting to life with an empty nest.
Mark Jicka recently left his post as managing director at CIBC World Markets in New York and is now an independent investor.
Lisa Krutzel Katzman lives in northern Virginia with her husband, Evan, and daughter Caroline, 15. Lisa leads marketing efforts at Optisave, a health care IT consulting firm. She travels extensively with her family for Caroline's skating competitions. Son David, 18, is a freshman at Bates College, where he plays hockey and studies chemistry and economics. She enjoyed exploring Maine this past summer.
Sue Doctoroff Landay is pleased to report that after an anxious battle with breast cancer, she is back to her healthy self. Her company, Trainers Warehouse, continues to run strong, and the new brand she launched in 2013, Office Oxygen, is really starting to grow. She's excited to work on something new, and she's even more excited to be developing a product line that "breathes new life into the workplace" and makes work feel a little less like "work." Her two boys, 11 and 13, are full of laughter, sports, school and inappropriate language. Her husband, Bill, is hard at work on his next book.
Chris Martin, president of Combined Insurance's worksite division, has been inducted into the Workplace Benefits Association's Worksite Marketing Hall of Fame. Each year, inductees are chosen by their peers, based on an individual's career achievements and contributions to the voluntary benefits industry. Chris came to Combined Insurance in 2011 and, as president of Worksite Solutions, the Glenview, Illinois-based company's workplace voluntary benefits division, he is responsible for providing leadership and management of the business, including strategic planning, sales growth, market development, producer relations and operations.
Dmitry Paramonov started a new position in Moscow as the managing director of Abbott Labs Diagnostics. His wife, Minako, and daughter, Sofia, are enjoying life in the bustling metropolis, where Minako is exhibiting her artwork. Sofia is a sophomore at the Anglo-American School of Moscow. Son Dennis just wrapped up his sophomore year at Parsons School of Design in New York City.
2014 was a year of building stuff for Steve Rappaport. He finished a reconstruction of his company's headquarters and built and furnished a new flat in the Austrian Alps. He's really happy with the results and even happier to be finished with construction so he can start skiing. He also enjoyed a visit by Eva and Riff Coven '92 and family over the summer. Their daughter is a few years older than Steve's eldest son, Benjamin, who started Montessori in 2014. His brother, Joshua, will join him this autumn.
Ron Squarer, CEO of the Boulder, Colorado-based Array BioPharma (NYSE: ARRY), was recently featured in an article about Array's regaining worldwide rights to binimetinib, an innovative late-stage oncology product. He is pleased to report that he and his colleagues were able to avoid circling the wagons in a vain attempt to defend the value of their drug after losing a big pharma development partner.
George Thornton is still burning up the track at Ford. He, his wife and two girls are still enjoying China, but now in Shanghai. "Leadfoot" reports that Ford is growing massively in Asia, but the business climate is volatile. His upcoming adventure is a trip through Tibet on a Chinese replica of a 1938 BMW sidecar.
Jim Winett enjoyed a Whole Life Challenge virtually with classmates Bruce Spear '12, Drew Koecher '12 and Steve Rappaport '12 — it was a great health and fitness challenge! Jim's consulting business is going well. In 2014, he bought and sold an interest in a mobile healthcare services company. He's active in a new startup, raising capital in a self-tracking big data analytics and recommendation software engine for health and fitness, and recently became an executive-in-residence mentoring early-stage companies at the Los Angeles Cleantech Incubator, recently named one of the world's top ten university-associated incubators. He is also a co-founder of The Early X Foundation, which helps companies and government research labs unlock innovation and commercialize underutilized intellectual property.
Gary Zentner bought a house in Palm Beach Gardens, Florida, after living in apartments and condos his whole life. His kid gets more room to run around, his wife gets to shape the living space and he finally can grill without breaking some local ordinance or condo bylaw. His recent passion project is with John Martin '95. They have negotiated a book option deal with Pulitzer Prize-winning author Ron Suskind for his New York Times best-seller, A Hope in the Unseen. They recruited Mike Tollin of Tollin/Robbins and Mandalay Entertainment Group to be their advisor through the development process. They are currently recruiting charitable and socially conscious parties to help fund the development phase so they can get their movie made. He encourages you to read the book and let him know what you think.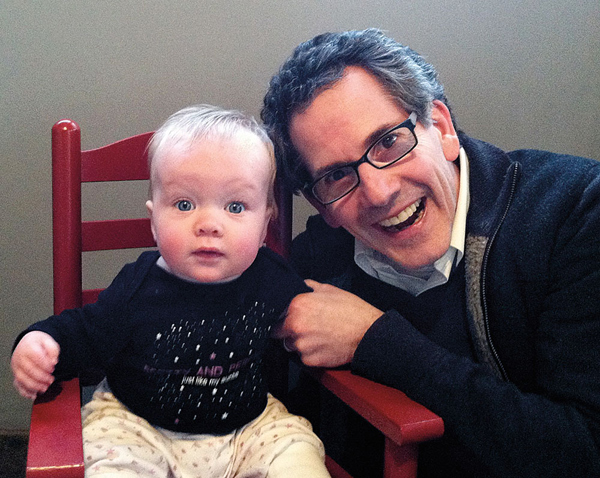 Jeffrey Gilbert '92 and daughter Shannon Kate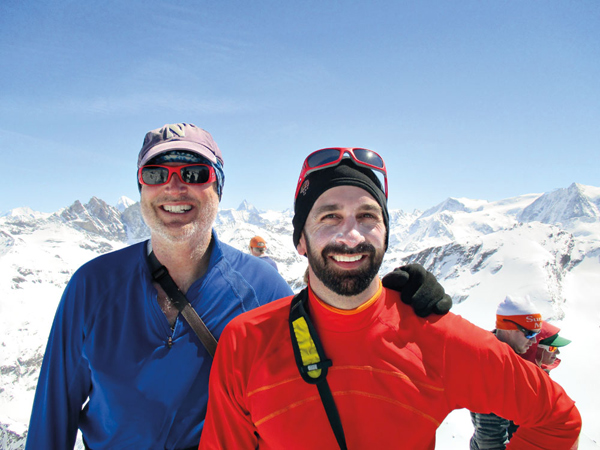 Leo Hermacinski '92 and Jess Cross-Call '02 on the summit of Rosablanche, Switzerland