1984-FT
Keith Babb and wife Aileen are celebrating 37 years of wedded bliss in 2015, living in Tennessee close to Jack Daniels. Keith still scouts for the world's largest NCAA-approved network. Their three children are doing spectacularly — the oldest is the man responsible for the new mobile app that will be used by the CTA and Metra to make commuting ticket purchases easier. The middle child is living the dream in Tennessee. The youngest is teaching and coaching in southeastern Pennsylvania, and her husband is the head of real estate for Boscov's department stores.
Andy Beran just launched a new-model transportation service for senior citizens. His model fills an important need by providing door-to-door, subscription-based ride services and companionship for those who don't want to drive, shouldn't drive or simply can't drive anymore. This service, Envoy America, started in Arizona and will soon be nationwide.
Bill Black is co-head of the Invesco High Yield Municipal Bond Fund in Chicago. His wife, Sue, is a family physician within the Loyola University Health System. Their son and daughter graduated from college in Boston, so as empty nesters they have moved into a condo in Chicago's South Loop. They enjoy travel and recently returned from a cruise on the Peruvian Amazon.
Since joining Korn Ferry in London in May 2014, Kai Hammerich had a hectic year. He moved to Copenhagen on January 1, 2015, after spending 13 years in London. He is happy to be back in Denmark and with Jette. Alexia, his 13 year-old, is thriving in London at the Steiner School and visits often. Kai sees John Youngblood (Alexia's godfather) on a regular basis in London and hopes Alexia will soon fulfill her dream of visiting New York.
Lynnette Hinch has been with Reynolds Consumer Products for five years. She is marketing director for Hefty disposable tableware and responsible for brand management and new product development. She's having fun with digital advertising, social media and sponsoring the Chicago Cubs. Her two sons are in high school, and while time is flying by, her family is healthy and happy.
Phelps Hoyt moved from Iowa to New York in 2014. He is now head of credit research and strategy for GIC Private Limited (Government of Singapore).
Lewis Hunt was offered an opportunity to retire from CSX that was too good to turn down. So, in January, he said his goodbyes and moved on. Now he is employed by the Coastal Region of the Genesee and Wyoming, a holding company that owns railroads in 43 states, Canada, Australia and Europe. He gets to spend much of his time in Florida, South Carolina, North Carolina and Tennessee working with customers. What's not to like about that?
After going to art school part-time for six years, Alison Levy Klein graduated from the Illinois Institute of Art with a BFA in interior design. She's been running an interior design business while going to school and plans to continue helping her clients create their dream homes as she leaves academia behind. If anyone is thinking about going back to school and wants to talk about it, give her a call. She notes that going to school is such a great experience at her age.
John Kriz recently travelled through Armenia and Georgia, including the Svaneti region, along Box Canyon and high in the Caucasus, which is serviced by only one road. The food was abundant, with much local wine to accompany it. While hiking near borders, he came across several military patrols. Back home in Connecticut, he joined his town's planning and zoning commission. He remains active in several farmland preservation and nutrition charities.
Mary Madick Morrow joined Gateway Health as vice president of strategic initiatives in January, which, after five years of near constant travel, brought her back home to Pittsburgh. She's enjoying time with family, including daughter Maggie, who recently graduated from Duquesne University's School of Law and swiftly found employment. She is happy to be with her son Ed, who is a junior at Duquesne, husband Rodger and five rescue Great Pyrenees.
In the fall, Michael Mandala, SJ, was inaugurated president of Verbum Dei High School in the Watts community of Los Angeles. The "Verb" is one of 30 college prep Cristo Rey Schools across the country for inner city students. One hundred percent of graduates are accepted to college. All students intern at corporations in an innovative work-study program. The program cuts the cost of education in half. Parents pay a sliding scale tuition, and financial sponsors contribute the rest. Visit the school's website at www.verbumdei.us
In March 2015, long-time Baird associate Terry Maxwell became the firm's CFO. Terry was at Baird from 1986 to 2006 and was head of investment banking. He rejoined Baird last year as director of corporate development and strategic investment following several years in academics.
All is well with Karl O. Mills. He is aging gracefully and maintaining a healthy sense of humor while puzzling life's big questions like, "How did kale become so popular all of a sudden?" He assumes that a Kellogg marketing genius was behind kale's emergence from obscurity. He imagines said Kellogg genius mused, "See that green stuff you are feeding to your horses? You see weeds, I see superfood." He predicts that in five years kale will be on every restaurant menu in the country, right next to salted caramel.
Catherine Morales, who recently moved to the Austin, Texas, area from the D.C. area, travels frequently to San Francisco, and after attempts to meet Karen Vangsgard Lithgow, Bob Egan and others, Murli Thirumale suggested a reunion. The Kellogg Bay Area Class of '84 Reunion was held on June 27, 2015 and was hosted by Murli Thirumale and Bob Egan at Murli's house. Allen Weinberg, Joan Bolz Cleary, Karl Mills and Peter Grace also joined them. Everyone was in very good form, and they are planning another mini reunion.
Candace Quinn (formerly Hulsebus-Fong) joined Professional Research Consultants as its first-ever COO in early 2014. PRC is a market research firm dedicated to the health care industry and committed to assisting health-care organizations focused on achieving excellence as a standard. She moved to Omaha with husband Michael and has now entertained all seven granddaughters with everything Omaha.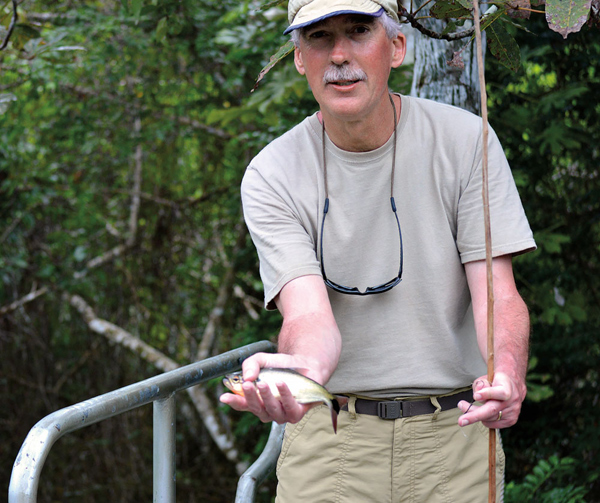 Bill Black '84 with a trout he caught in the Peruvian Amazon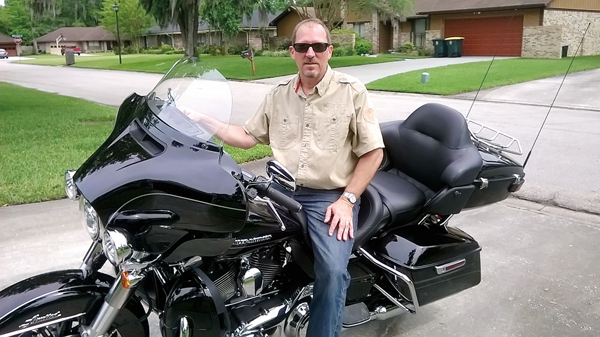 Lewis Hunt '84... not a work day