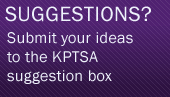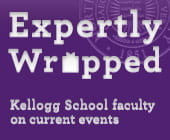 Chetan Mahajan '07
Author
"The Bad Boys of Bokaro Jail"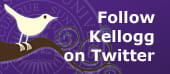 Class Gift
Class Gift
Each year the graduating class leaves a legacy to the school; a parting gift that benefits Kellogg students for years to come. This campaign – and our future gifts – serve as an important part of the Kellogg School's development efforts, and marks our transition from students to alumni.

Give Today!

Part-Time Program Class of 2014 Gift
We are thrilled to announce that the graduating Part-Time Program class will be supporting 1st floor lounge renovations in Wieboldt. These are critical projects to keep Wieboldt and Kellogg strong. We need every student to participate to achieve something that's never been done before - 100% participation. Click here to view propsed ideas: Proposal A | Proposal B

Why Your Contribution is Important
1) Leave Your Mark on Kellogg: Every time you return to campus, you will see how our class gift benefits the students and know that you helped to make Kellogg a better place.

2) Keep Kellogg on Top: Annual giving to Kellogg helps keep us among the top-rated business schools. Giving participation is one of the measures of institutional success used in business school rankings and it demonstrates strong alumni commitment to continued investment in Kellogg.

Give Today
Now is the time to make a statement of your leadership and commitment to Kellogg. Your gift will help us leave a legacy for all those who will become part of the Kellogg family for years to come. Let's come together as a class to show our collective support and appreciation for our time here at Kellogg.

Give Today! This year we aim to achieve 100% participation and $28,000.

Thank you in advance for your support!

-Graduation 2014 Committee


Frequently Asked Questions
1. What kind of pledge and participation rate is expected for the class gift?

Participation is key and we encourage you to contribute in a manner in which you are comfortable. The average gift over the past few years has been just over $275. This is the second year we will be doing an outright gift. In previous years, class gift allowed students to pledge a specific amount to Kellogg to be paid over two years. Here is that pledge history:

Previous classes have pledged:

• PTMBA class of 2013 donated $17,200 with 61% participation and gave to the Kellogg Annual Fund
• PTMBA class of 2012 pledged $71,931 over two years with 50% participation and gave to the Kellogg Annual Fund
• PTMBA class of 2011 pledged $72,348 over two years with 41% participation and funded classroom renovations
• PTMBA class of 2010 pledged $73,961 over two years with 52% participation and funded classroom renovations
• PTMBA class of 2009 pledged $121,733 over four years with 45% participation and funded student resource rooms
• PTMBA class of 2008 pledged $176,785 over four years with 53% participation and funded student resource rooms
• PTMBA class of 2007 pledged $203,000 over four years with 52% participation and funded 21st Century Study Rooms

2. I already paid for my education. Why should I contribute to Kellogg?

Tuition does not cover the full cost of our Kellogg education. Kellogg has three sources of revenue:

1. Tuition and fees (79%)
2. Endowment income (13%)
3. Philanthropic gifts to the operating budget (8%).

Tuition does not cover the full cost of a student education, and Kellogg relies a good deal on philanthropic gifts, such as the one we would be providing. Ninety-eight percent of the Kellogg endowment is restricted. This means that funding for new initiatives must come through new philanthropic commitments, not the endowment.

As alumni, we will also continue to reap benefits from Kellogg – from networking with other alumni to the competitive edge we receive from our MBA degree. We will all benefit from keeping Kellogg at the top of the business school rankings and to do so will require the continual investment from Kellogg's alumni and community friends.
Donor benefits also exist depending on the level of donation. All donations will be recognized in the online Kellogg Investors Report. Depending on your donation level, you may also qualify for the following privileges:

• Purple Reign Donor ($1,000): now, alumni who have graduated within the last five years – and current students – can join the Kellogg Leadership Circle at the Catalyst level by making a gift of $1,000 in each fiscal year. You will receive recognition in print and online Investors Report, invitations to student led conferences, invitations to signature Thought Leadership events and more. To learn more about the Catalyst level, visit: http://www.kellogg.northwestern.edu/about/transforming/donors/leadership-circle.aspx.
3. What options do I have for contributing to the class gift?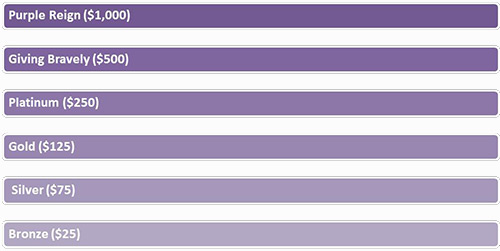 If you have additional questions please contact the Graduation Committee (emails listed below).

4. Can I pledge a recurring gift and, if so, will it count towards the total goal?
Yes! On the giving site you can select to set up a recurring gift to Kellogg that will continue to support the class gift.
Simply select "recurring", the frequency of your gift (monthly, quarterly, or yearly), and the end date of your recurring gift.
Note: All amounts pledged will count towards the total class gift amount, however, only the amount donated today will count towards your designated giving level.
5. Can my company's matching donation go toward the class gift?

Your company's matching gift can go into the class gift fund as added dollars and will also help increase your donor benefits toward leadership giving status. To check if your company participates in a matching gift click
here
.


6. Are donations tax deductible?

Gift amounts to Kellogg are tax deductible.


7. Whom do I contact for additional information?


Committee Contact Information:
Class Gift Co-Chairs:
Hank Thompson:
h-thompson@kellogg.northwestern.edu
Amy Boruff:
a-boruff@kellogg.northwestern.edu
J.J. Malfettone:
j-malfettone@kellogg.northwestern.edu