Women's Senior Leadership Program
Transform the Corporate Landscape
Kellogg Executive
Leadership Institute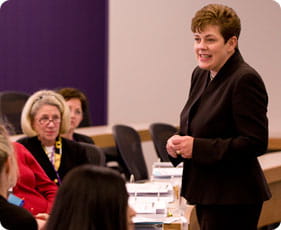 With an emphasis on practical learning and talent development, this four-part program — strategically paced over the course of a year — equips women with the knowledge and tools needed to elevate themselves to the C-suite and beyond.
In a supportive and highly collaborative atmosphere, an impressive roster of top Kellogg faculty and corporate experts guide skilled female executives through a rigorous program of intensive classroom instruction, individual career appraisals, personal coaching, case studies and simulations. Every element of the program is focused on strengthening and broadening the leadership talents of the participants and delivering positive results for their companies and organizations.
Read more about the Women's Senior Leadership Program in our newsletter.
Download a Brochure
Upcoming Sessions
Apply Online

$23,900

[+]

October 26-28, 2016
February 1-3, 2017
May 3-5, 2017
October 11-13, 2017

Fee includes lodging and most meals for all four sessions.
The curriculum was well-rounded but really focused on practical knowledge that women leaders need to master today.
- Paula Loop, Partner, PricewaterhouseCoopers

Read more
Connect with the Kellogg School of Management and stay up to date on the findings from our latest research. Followers of Kellogg will receive updates on trends in executive education and upcoming courses at the Kellogg School of Management.

LEARN ABOUT | Negotiation | Leadership | Brand Management | Data Analytics