Women's Director Development Program
Enhance Your Effectiveness in the Boardroom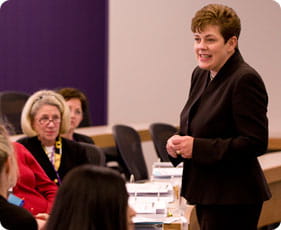 Discover the keys to unlocking the boardroom doors in this program for senior-level women executives. Designed and powered by the Kellogg Center for Executive Women, this course serves as both a boot-camp and gateway for women who aspire to serve on boards as well as those looking to expand their range of directorship opportunities. During this collaborative and rigorous program, you will interact with experienced board directors and senior Kellogg School faculty as you explore the roles of boards, ways to structure boards for high performance, and strategies for maximizing effectiveness as a board member.
Participants will be inspired to improve their understanding of board governance and future director prospects, while learning how to make the leap onto nominating committee radar screens.
Download a Brochure
Upcoming Sessions
Apply Online

$6,300

[+]

November 4-6, 2015

Fee includes lodging and most meals
Featured Faculty Video
| | |
| --- | --- |
| | Professor Vicki Medvec: The importance of framing in board decision making |
Connect with the Kellogg School of Management and stay up to date on the findings from our latest research. Followers of Kellogg will receive updates on trends in executive education and upcoming courses at the Kellogg School of Management.