Executive Development Program
Lead Across Business Functions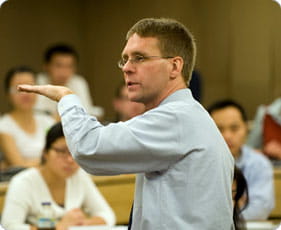 The Kellogg Executive Development Program focuses on results: helping companies succeed by equipping top-performing managers to realize their potential for general management roles. This three-week program will enrich you with fresh ideas, enable you with new knowledge and empower you to gather a broader perspective and greater confidence.
As a participant, you will:
Complete an intensive analysis of the key functional areas of business to sharpen your skills and equip you to contribute substantially to strategic decision making.
Explore theory-driven knowledge and concrete strategies across all business areas that will help you put new ideas into action when you return to your organization.
Enhance your leadership effectiveness to maximize your personal leadership style, lead teams and navigate through your organization.
Return to your workplace equipped and energized to continue to advance as a leader, decision maker and change agent.
Download a Brochure
Upcoming Sessions
Apply Online

$29,700

[+]

October 4-23, 2015

Fee includes lodging and most meals

Apply Online

$31,500

[+]

June 12 - July 1, 2016

Fee includes lodging and most meals

Apply Online

$31,500

[+]

October 2-21, 2016

Fee includes lodging and most meals
"On a professional level, the return on investment was immediate; and the international networking resources available through the Kellogg alumni community will continue to add value throughout my career."
- Dave Leuder , President, Nostalgia Home Fashions

Read more
Connect with the Kellogg School of Management and stay up to date on the findings from our latest research. Followers of Kellogg will receive updates on trends in executive education and upcoming courses at the Kellogg School of Management.

LEARN ABOUT | Negotiation | Leadership | Brand Management | Data Analytics