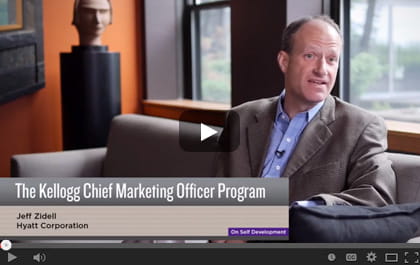 Chief Marketing Officer Program
The Kellogg CMO Program is specifically designed to increase the odds of success for enterprise marketing leaders.
This program brings together a small, select group of newly-appointed chief marketing officers and candidates for the CMO position. Attendance in this program is by invitation only.
The 2015 program is comprised of two 2-day modules,
for a total of four days at our Evanston campus.
Module I: April 28-29 | Module II: June 23-24
In the Media
Participant Benefits
Challenging discussion with Kellogg's world class marketing faculty:
How to anticipate the future of the marketing profession
Building company and brand reputation with stakeholders
Mastering leadership challenges for the new C-Suite executive
Capturing value from transformational analytics
Broadened field-of-view from cross-industry perspectives:
Small group discussions with current CEOs and CMOs
Peer to peer learning from an "invitation only" participant group
Content Outline
Leadership

Operating effectively as a member of the senior executive team
Building the marketing organization of the future
Understanding the CEO perspective on the CMO role
Leading change

Market Orientation

Leading the growth agenda
Influencing company strategy
Building brand reputation with stakeholders
Developing global leverage

Innovation

Framing the CMO innovation agenda
Organizing for social media: c-suite and cross-functional dynamics
Leading transformational analytics

Self Development

Managing CMO success factors and career de-railers
Increasing IT literacy for CMOs
Addressing company-specific action learning project
Download a Brochure
Participating Faculty & Practitioners
Academic Faculty
Gregory Carpenter
James Farley/Booz Allen Hamilton Professor of Marketing Strategy
Carter Cast

Clinical Associate Professor of Management
Richard Honack
Academic Director; Adjunct Professor of Executive Education
Philip Kotler
S.C. Johnson & Son Professor of International Marketing
Harry M. Kraemer
Clinical Professor of Management & Strategy
Eric Leininger
Clinical Associate Professor; Executive Director, Kellogg CMO Program
J. Keith Murnighan
Harold H. Hines Professor of Risk Management
Brian Uzzi
Richard L. Thomas Professor of Leadership and Organizational Change
Edward Zajac
James F. Bere Professor of Management and Organizations
Florian Zettelmeyer
Nancy L. Ertle Professor of Marketing
Practitioners
Chief Executive Officers
Mary Dillon, CEO, Ulta

Rick Lenny, Partner, Friedman, Fleischer and Lowe; CEO, Hershey (RET)
Content Leaders
Bob Cancalosi, Director of Global Customer Education, GE Crotonville

Simon Clift, Chief Marketing Officer, Unilever (RET)

Rory Finlay, Consumer Products Global Practice Group Leader, Egon Zehnder

Michael Golz, CIO Americas, SAP

Betsy Holden, Senior Advisor, McKinsey & Company

Sanjay Khosla, EVP Mondelez International (RET); Kellogg Senior Fellow

Homi Patel, Chief Executive Officer,
Hartmax (RET),
Kellogg Marketing Lecturer

Matthew Paull, Senior Executive Vice President and Chief Financial Officer, McDonald's Corporation (RET)

Jim Stengel, Global Marketing Officer, Procter & Gamble (RET)


Connect with the Kellogg School of Management and stay up to date on the findings from our latest research. Followers of Kellogg will receive updates on trends in executive education and upcoming courses at the Kellogg School of Management.