Executive Scholars Certificate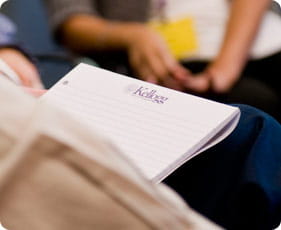 What is the Kellogg Executive Scholars Certificate?

Kellogg Executive Scholars are awarded Certificates of Professional Achievement after successful completion of an approved selection of executive programs at the Kellogg School. There is a five-year time limit to complete the certificate. The selected programs must include one required program and three to four electives. (The Certificate of Professional Achievement in Nonprofit Management has separate criteria.) Get started today by exploring the seven Executive Scholar tracks:
Finance
General Management
Innovation
Leadership
Marketing & Sales
Nonprofit Management
Operations & Technology

How do I become a Kellogg Executive Scholar?
There is no separate fee required to become an Executive Scholar - you are automatically enrolled when you take your first qualifying program. However, anyone interested in becoming a Scholar is encouraged to complete a formal application. The application serves to inform the school of your intention to become an Executive Scholar, it helps the school monitor your progress through your track, and also serves as a tool to be used by you and the Executive Scholars Advisor in order to ensure that all programs in your track will qualify for a Certificate. The application is non-binding and does not obligate you to attend any programs. Your program choices can certainly change over time, as long as they still fit within the curriculum guidelines. You can download this form on our web site. Upon completion of the required programs, you will be awarded a Certificate of Professional Achievement.


Why should I consider the Executive Scholars Certificate?
The Kellogg Executive Scholars Certificate provides a practical, flexible, yet academically rigorous way to achieve your specific professional goals. With over forty programs in our executive education portfolio, you can tailor a curriculum track around your individual needs. Perhaps you need more training in general management, but don't have time for a three- or four-week program. Or you may want to reposition yourself in your company, refresh prior education, or sharpen a specific skill. Whatever your professional development goals are, the Kellogg Executive Scholars Certificate may be the ideal way to achieve them.

How will the Kellogg Executive Scholar Certificate benefit me and my organization?
Kellogg develops programs around some of the business world's most challenging issues. Kellogg's unique collaborative approach immerses those who love to learn in provocative new ways to explore complex business problems. As such, Kellogg's programs directly benefit both the individual and the organization.

As an Executive Scholar, you will:
Pursue a curriculum specific to your needs in an intellectually vibrant environment that promotes collaboration and practical application of knowledge
Learn from and interact with our world-class faculty and your fellow business executives as you expand your global network
Strengthen your professional credentials with recognition of your achievement from Kellogg, a world leader in executive education
Enjoy a wealth of lifelong learning and networking benefits as a Kellogg executive education alum
As the sponsor of an Executive Scholar, your organization will benefit because:
The seven Executive Scholar tracks provide a flexible way to develop current and future leaders
Our vast program offerings allow your organization to address a variety of competencies
Team members return to work with perspectives from other companies and industries
The practical curriculum allows executives to return to work and immediately apply what they have learned
Your team will be able to better tackle the challenges your organization faces, having learned from Kellogg faculty and a diverse peer group of seasoned executives from around the world
Find out how to become a Kellogg Executive Scholar.
For Rick Parrin, the Kellogg experience has been all about relevancy. "I chose Kellogg for executive education because two of my family members attended, and it has a solid reputation," he says. "At the start, I was concerned that the courses would be more academic, but I found that the classes brought in folks who were in touch with the reality of business.

Rick Parrin, Assistant Vice President H & R Block
Read more
Connect with the Kellogg School of Management and stay up to date on the findings from our latest research. Followers of Kellogg will receive updates on trends in executive education and upcoming courses at the Kellogg School of Management.

LEARN ABOUT | Negotiation | Leadership | Brand Management | Data Analytics