The Physician CEO™ Program
The Essential Complement to a Medical Education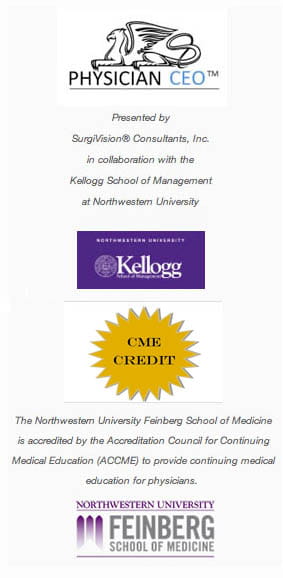 The Physician CEO™ program is developed by SurgiVision® Consultants, Inc. in collaboration with the Kellogg School of Management at Northwestern University.
This unique program focuses on growing medical practices, whereas others train physicians to be managers, run hospitals, and comply with regulations. The Physician CEO™ program is highly entrepreneurial and focuses on topics relevant to physician leadership, particularly around patient-pay medicine.
As a participant, you will enjoy an intensive, MBA-style experience to equip you with essential business skills. The program consists of four five-day modules presented approximately 10 weeks apart. Each module is organized around core topics of interest to physicians across all patient-pay medicine specialties. Targeted specialties include ophthalmology, plastic surgery, cosmetic dermatology, concierge medical practices, fertility, anti-aging, orthopedics and more.
The Physician CEO™ program is designed for physicians within and outside the United States. Course structure, cases and assignments are relevant to running your medical practice. Emphasis is placed on strategy, leadership, negotiations, marketing, operations, finance, corporate structures, and legal topics, among others.
The modules were designed to provide optimal exposure across the key functions of a Lifestyle medical practice
Download a Brochure
Upcoming Sessions
Apply Online

$36,000

Module 1: January 24-28, 2015
Module 2: March 28 - April 1, 2015
Module 3: June 13-17, 2015
Module 4: September 19-23, 2015
Program Consists of All 4 Modules.
Connect with the Kellogg School of Management and stay up to date on the findings from our latest research. Followers of Kellogg will receive updates on trends in executive education and upcoming courses at the Kellogg School of Management.