Successful Corporate Renewal
Transforming Companies and Subsidiaries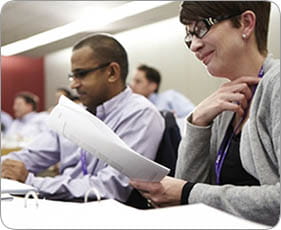 Created by an experienced turnaround leader, Successful Corporate Renewal marries the art and science of management to equip executives to renew their organizations. As a participant, you will learn essential principles that will enable you to transform any underperforming organization to achieve short-term profitability and long-run success. 
In Kellogg's intellectually vibrant environment, you will learn frameworks to recognize early signs of distress and put into place the leadership, operational, financial and legal strategies to create lasting value for stakeholders. In a dynamic environment with faculty and industry experts, you will explore the ethical and legal complexities that surround turnaround decision-making. You will come away with a powerful capacity to accelerate growth. 
Note:
The 2013 program will be held at Kellogg's downtown Chicago campus,
Wieboldt Hall
, located at 340 E. Superior Street.
The 2013 program fee includes classroom instruction, program materials, breakfast, lunch and coffee breaks. Accommodations are not included.

Continuing Education Credits

This program is registered with the National Association of State Boards of Accountancy and is recommended for 30 CPE credits.
Program Materials
Brochure

Download a brochure to learn more about the program.

Application

Download an application and apply today.
Connect with the Kellogg School of Management and stay up to date on the findings from our latest research. Followers of Kellogg will receive updates on trends in executive education and upcoming courses at the Kellogg School of Management.