Executive MBA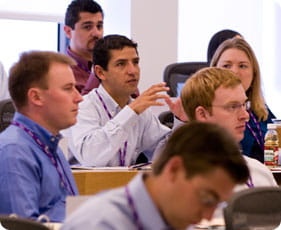 Designed for senior and mid-career executives, the
Kellogg Executive MBA Program
is flexible and challenging. The program emphasizes teamwork and cross-cultural collaboration, leadership and adaptability.
Your Executive MBA

To accommodate the varied schedules of a diverse student body, Kellogg offers three Executive MBA program schedules each year. The renowned faculty and stimulating curriculum are the same in each, and the Executive MBA experience consistently receives high marks from the likes of The Wall Street Journal, Business Week and The Economist.
Learn it today. Apply it tomorrow.
Unlike traditional MBA students, Executive MBAs work full time while earning their degrees. The benefits of this ambitious schedule are clear: Executive MBAs don't have to wait until graduation to test classroom strategies on the job — they can start on Monday morning.
A global perspective

Kellogg School faculty are well-versed in the workings of the global marketplace. They are internationally acclaimed scholars, researchers and consultants. Kellogg students have opportunities to complete research projects and elective courses taught by local experts abroad, and their classmates hail from all over the world.